Top 10 Cheapest New Cars You Can Buy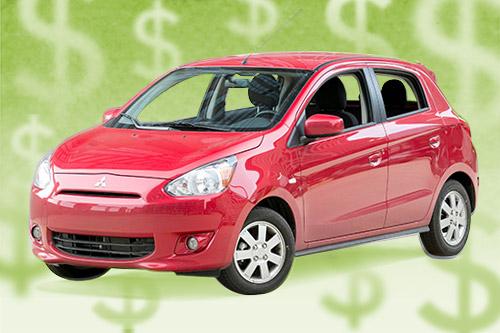 CARS.COM — There's a certain crowd of people who don't really care in particular what car they drive, they just want whatever is the cheapest way to get from A to B, period. They want something new, something with a warranty, something efficient. They probably don't even take into consideration the well-written expert reviews on a site like Cars.com penned by experienced automotive journalists (hint, hint).
Related: Need Space on the Cheap? 10 Cars for You
It is for those people that we've compiled the following list, the top 10 cheapest cars to buy and fuel, the vehicles that deliver the biggest financial bang for your hard-earned buck. Mitsubishi, Chevrolet, Nissan, Smart, Scion, Kia, Ford, Toyota and Hyundai are the featured automakers in this list.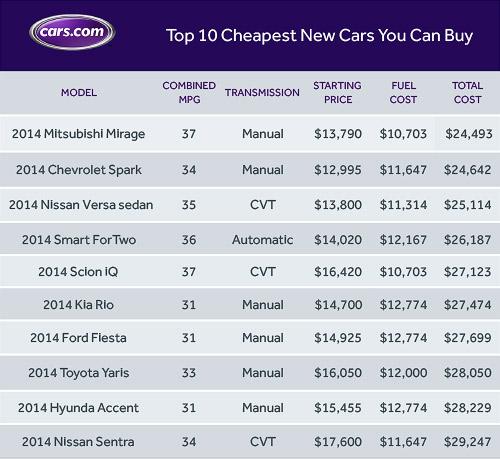 We've also compiled the cheapest new hybrid vehicles you can buy, with Toyota and Honda leading the pack.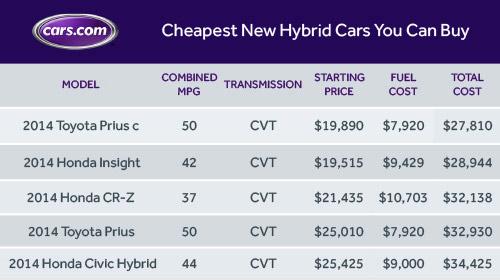 The formula is simple: Start with the vehicle's sticker price plus destination fees of the most fuel-efficient yet least expensive cars on the market, figure how much gas they'll use over eight years based on the EPA's combined mpg rating and 15,000 miles driven per year, add it all together and there you go. The last time we ran this test was in 2008 (click here to see it), and what a difference six years makes. Some things to note about this year's list:
The average cost of gasoline is now 70 cents per gallon cheaper ($3.30 a gallon as of this writing, versus $4 a gallon back then), but the average new-car sticker price went up more than $2,600 for regular gasoline-powered cars.
The average cost of a hybrid car fell by nearly $1,200. In 2008, the least expensive hybrid on our list of cheapest cars to own was the $21,100 Toyota Prius, but now there are three models less expensive than the current Prius — and even less expensive than the 2008 Prius!
Note that the models that made the list may not be the most fuel-efficient version of that car. For example: The Ford Fiesta is available with a 1.0-liter EcoBoost three-cylinder engine that gets 37 mpg combined, but that optional engine comes only in the midlevel SE trim and costs a total of $2,475 more than a base S 1.6-liter model. The extra cost over a base manual-transmission Fiesta 1.6-liter that gets 31 combined mpg isn't recovered with fuel savings in eight years of driving, meaning the base Fiesta has more bang for your buck.
Our list includes only the one model of any given car that has greatest bang for your buck — but the winning Mitsubishi Mirage, for instance, can also be had with an automatic transmission that changes its fuel-economy rating yet still comes in as a lower-cost option than many other models on the list. The Ford Fiesta, Nissan Versa and Chevrolet Spark all have a few versions in which this is the case, but a list with just four cars wouldn't be very useful.
Editor's note: The Top 10 Cheapest New Cars chart above has been updated as of Feb. 25 to correct a pricing error in the Nissan Versa sedan. Our original price was for a Versa S trim with an automatic instead of the Versa S Plus with a continuously variable automatic transmission. However, the fuel-economy figures are correct for the S Plus with the CVT. The MSRP is $800 higher than the original price, but it is still the cheapest version of the Versa sedan you can buy. The price discrepancy does not impact the Versa's ranking on our list.
Cars.com's Editorial department is your source for automotive news and reviews. In line with Cars.com's long-standing ethics policy, editors and reviewers don't accept gifts or free trips from automakers. The Editorial department is independent of Cars.com's advertising, sales and sponsored content departments.