2015 Jeep Renegade Photo Gallery (55 Photos)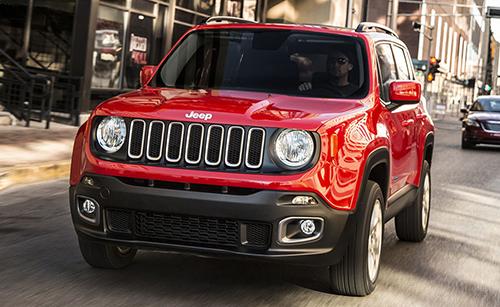 One of the first things you'll notice about the just-unveiled 2015 Jeep Renegade is it bears an unmistakable family resemblance. The physical features of the subcompact Renegade, which bows Tuesday at the 2014 Geneva International Motor Show, take after several members of the Jeep clan, particularly the old Cherokee, the Wrangler and even a hint of the now-defunct Liberty. However, as a product of the new Fiat Chrysler Automobiles, it shares a platform with the Fiat 500L and might be considered the runt of the litter — which is not to suggest it won't boast Jeep's formidable off-roading capabilities, especially the optional trail-rated Trailhawk model.
2015 Jeep Renegade: First Look
Inside is Jeep's Tek-Tonic design combining the rugged structural elements with more luxurious materials along with extreme-sports style colors and compartments. The five-seater is powered by either a 160-horsepower 1.4-cylinder mated to a six-speed automatic transmission or a 184-hp, 2.4-liter four-cylinder with a nine-speed automatic, available in front- or all-wheel drive. The Renegade is expected to hit dealerships in early 2015. Check out the gallery below.
Manufacturer images
2015 Jeep Renegade Latitude
2015 Jeep Renegade Limited
2015 Jeep Renegade Trailhawk