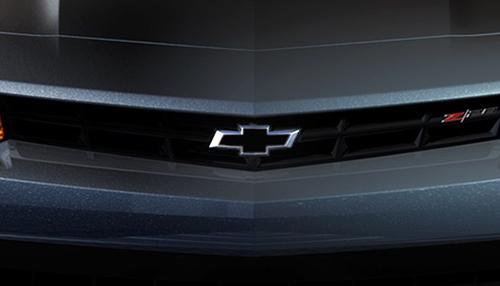 Sometimes when you're wearing a tuxedo you've just got to loosen that bowtie so you can breathe a little easier. GM engineers basically used the same concept to improve the performance of the made-for-the-track 2014 Chevrolet Camaro Z/28 by increasing airflow to the radiator — only without having to dress down. Instead, they simply replaced the iconic Chevy bowtie with the newly minted "Flowtie."
2014 Chevrolet Camaro Z/28 Starts at $75,000
During aerodynamics testing, engineers observed that the Z/28's grille was displacing air away from the radiator, impacting engine cooling. Richard Quinn, powertrain cooling development engineer, had an idea that freed up valuable grille real estate without sacrificing brand identity — hollowing out the logo.

"Removing the bowtie altogether did not seem to be an appropriate solution," GM said in a statement. "Instead, Quinn took a cut-off wheel to the gold fill of the bowtie, leaving the silver outline intact. He installed the prototype on the grille and retested to see the results."
What he found was that the Flowtie — just the chrome outline of the traditional bowtie logo — allowed 3 additional cubic meters of air into the engine per minute, dropping the temperatures of engine coolant and oil by 2 degrees during extended track sessions. The discovery goes to show how every little advantage counts in finely tuned performance cars like the naturally aspirated Z/28. Especially when they're designed with one of the narrowest grilles in the industry.
The Z/28 arrives at dealerships in the spring already tipping the scales at 300 pounds less than the Camaro ZL1 and 55 pounds less than the 1LE thanks to weight-cutting measure like lighter wheels and thinner rear-window glass.
Manufacturer images