General Motors Unveils New Engine Family, Coming to U.S. Soon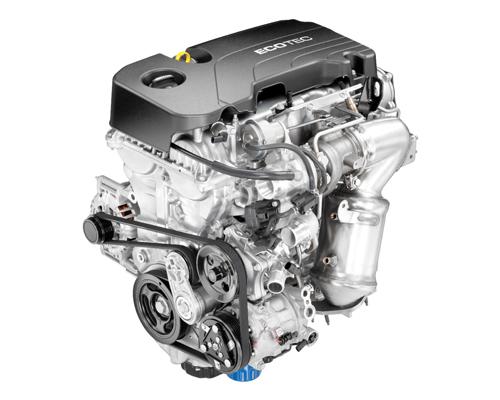 General Motors has unveiled a new family of small engines meant to go into GM's small and midsize cars all over the world. The new three- and four-cylinder engines all share a common architecture and replace three separate families of engines, which will help GM reduce costs as it continues to globalize operations.
Ranging in displacement from 1.0- to 1.5-liter, the new Ecotec engines will have 11 variants built and used around the world. They range from a naturally aspirated 1.0-liter three-cylinder for the South Korean market up to a turbocharged 1.5-liter four-cylinder. Horsepower ranges from a scant 75 hp in the smallest motor to 165 in the turbocharged 1.5-liter. The company also said there will be a "hybrid" variant as well, suggesting a replacement for the 1.4-liter engine currently used to help power the Chevrolet Volt and Cadillac ELR. However, GM offered no details on what engine it will be or its planned application.
GM has totally re-engineered these motors, claiming major improvements in fuel efficiency, emissions and quietness versus competitors' engines. For instance, GM is claiming that the turbo 1.4-liter engine will be nearly 50 percent quieter than the 1.8-liter motor in the Audi A3, and that the turbocharged 1.0-liter three-cylinder engine will be nearly 25 percent quieter than the similar EcoBoost engine in the Ford Fiesta. So far, GM has only announced two applications: The European Opel Adam city car will have a turbocharged 1.0-liter three-cylinder engine, and the next-generation Chevrolet Cruze for the Chinese market will get a choice of turbocharged 1.4-liter four-cylinder or naturally aspirated 1.5-liter four-cylinder engines.
As for what's coming to the U.S., GM refused to divulge any product plans for the U.S. market. But given that the current U.S. lineup features several small engines, it would not be a stretch to imagine the turbo three-cylinder engine finding a home in our Chevrolet Spark and Sonic, while the turbocharged 1.4-liter engine could head to the larger Chevy Cruze and perhaps even the Malibu and Equinox compact crossover. The next-generation Volt could even get a turbo three-cylinder for its range-extender as well, given its power requirements. GM will unveil more about which of its cars will get the new Ecotec engines as the year continues.
Manufacturer image