How Did Lexus Mess Up a Heated Steering Wheel?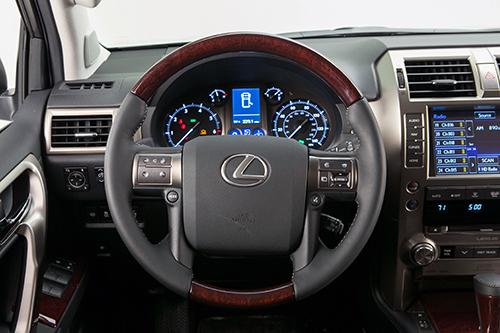 A heated steering wheel is one of those comfort features that once experienced you wonder how you ever managed to live without it.
That's been especially true this winter around Cars.com's Chicago headquarters, where the temperature has dipped below zero degrees on 22 days and more subzero weather is on the way.
That also is why some Cars.com editors were mildly frosted — though none suffered frostbite — when they recently test-drove Lexus models with steering wheels that were only partially heated.

The indignity.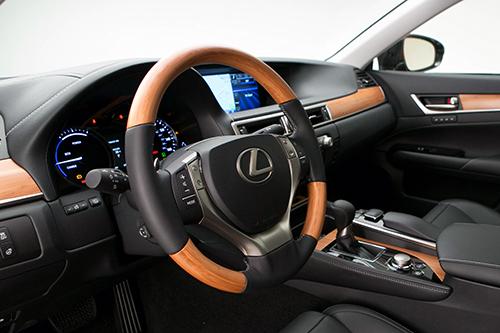 Lexus offers leather and wood steering wheels in which only the leather portions on the sides (when its centered) are heated. In contrast, other manufacturers, such as Jaguar and Land Rover, offer a choice of all leather or wood/leather steering wheels, and in either case, the entire rim is heated.
No biggie, you say? Just wear gloves and quit beefing?
Executive Editor Joe Wiesenfelder noted that other luxury brands as well as some non-luxury brands have a better grip on heated wheels.
"It really doesn't help too much unless the whole wheel is heated. I drove two Lexus models with wood high and low, and those sections remained frigid," Wiesenfelder said. "The warmed leather portion made up the minority of the rim. I have driven a Chrysler 300C with wood on the steering wheel where the whole thing was heated."
In fact, after driving a variety of Lexus models this winter, including the GX 460 (top photo) and LX 570 SUVs as well as the GS 450 (above and below images) and LS 460 sedans, the sort-of heated steering wheels managed to tick off most of the editors on staff.
Lexus spokeswoman Allison Takahashi said in an email that only the leather portions of the steering wheels are heated because Lexus uses real wood on them. "The wood is so thick that if we were to put a heating device under the wood, the heat would not transfer."
Lexus also offers several kinds of wood with varying degrees of density and hardness, which could affect heat transfer. For example, the ES 350's steering wheel can be either bamboo or bird's-eye maple, and in the LS sedan, the choices are walnut, ash or bamboo wood as well as Shimamoku Espresso wood veneer.
Still, some Lexus owners say they were surprised to find out that what was advertised as a "heated steering wheel" turned out to be only partially heated.
A recent discussion of this issue on the Club Lexus owners' forum went on for eight pages, with some were more amused by the topic than alarmed.
At least one owner accused Lexus of "false advertising" by not disclosing the limitations, and others noted that their BMW or other luxury vehicle had a fully heated wheel. Others carped that the heated leather portions are only at the 9 and 3 o'clock positions, which are the hand positions recommended by most driving instructors.
"No one that I know holds their hands in those positions," an irate owner said in a forum post. "I don't know what the designers were thinking. Poor design by Lexus,"
Other Lexus owners disagreed.
"The salesman actually informed me that it only heated the two positions during the test drive. I really have no problem with this, since none of my prior dozen vehicles even offered it. And, it does work as advertised," said a forum member. Another dismissed the discussion by saying, "The solution is soooo simple. Want warm hands? Keep them on the leather part of the steering wheel."
Another obvious solution is to wear gloves, but gloves that actually keep hands warm in subzero weather can be bulky, making it hard to operate dashboard controls, and they don't let the driver maintain a firm grip on the steering wheel.
No matter how much of a steering wheel is heated, though, spring can't come too soon.
Cars.com photos by Evan Sears