Mazda Reveals Hazumi Concept at the 2014 Geneva Motor Show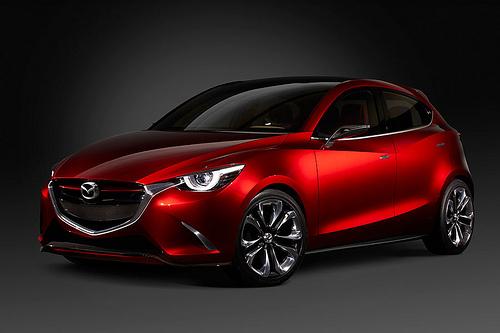 Mazda is on a styling roll these days with the beautiful Mazda6 sedan and appealing Mazda3 compact making waves for their swoopy looks. That leaves the small Mazda2 next in line for a revision. We may have just gotten a look at its future with the unveiling of the new Hazumi concept at the 2014 Geneva International Motor Show.
Featuring the latest version of Mazda's "Kodo" design language, the company likes to draw comparisons to animals for the look of the subcompact five-door hatchback. Phrases such as "cheetah-like face" with the "look of an animal on the prowl" are not inappropriate. However, the Hazumi does have a dynamic, sculpted look that wouldn't be out of place in Mazda showrooms as the next Mazda2. The lines almost evoke an Alfa Romeo feel to the car, with elements of Mazda's other vehicles thrown in.
Inside, a black leather base with white leather accents and red fabric seats keep the hot exterior style going, but sadly this is likely to be toned down considerably for any production car based off of this concept. The model also features Mazda's latest multimedia system as well, dubbed Mazda Connect.
The powertrain is also interesting — a turbocharged 1.5-liter diesel engine that would slot below the 2.2-liter turbo-diesel Mazda uses in much of the rest of the world (but not North America — not yet at least). Using Mazda's SkyActiv technology, the new engine is supposedly extremely clean and efficient, but the company has not yet released any details on power output.
Have a look at Mazda's Hazumi concept in the gallery below.
Manufacturer photos