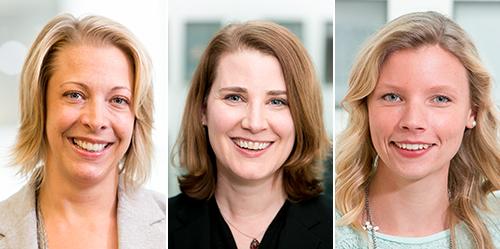 The Cars.com Editorial family is filled with gearheads, car enthusiasts, daily-grind commuters and carpool-lane veterans; a few of us also answer to "Mom." The moms on staff have seen it all on the road, from marathon car-seat installations and late-night car clean-up sessions to cross-country road trips, kid-friendly gadget testing and endless runs to school, ballet practice and baseball or lacrosse games, to name but a few. Along the way, we've picked up plenty of advice, tricks, stories and overall family-car expertise.
Continue below to Meet Our Moms, and stay tuned to Meet Our Dads.
Kristin Varela, Senior Editor/Chief Mom
I'm the Chief Mom at Cars.com and the mom of amazing girls. I test-drive a lot of cars, and I am always putting them through their paces by taking the girls to dance classes, piano lessons and school. How's that for mixing work and family time? I do find time for simple indulgences like a standing sushi date with my husband, bubble baths, yoga or an hour with a good book, and I relish the time I spend with my girls. They still kiss me when I drop them off at school, so I'm a happy mama.
How Old Are Your Kids? I have two daughters, ages 11 and 13, and an adorable stepdaughter, age 9.
What Does Your Family Drive? My mom-mobile is whatever car I'm testing at the time.
What's Your Family's Favorite Activity? With three busy, active teens and tweens, those rare moments of family time when we're not running around to activities are precious. Our sacred time together as a family is our regular Friday pajama, pizza and movie night. It's a tradition that started years ago when the girls were little, and it's stuck.
Jennifer Newman, Assistant Managing Editor
I'm a married urban mom with two busy boys. On the weekends, I can be found navigating Chicago's streets in my 2013 Subaru Outback, which handles my kids' sports gear. I spend my weekdays editing stories and installing child-safety seats into test cars for our Car Seat Checks. My miniscule amount of downtime is spent playing baseball or video games with my kids.
How Old Are Your Kids? I have two boys, ages 7 and 11.
What Does Your Family Drive? After trading in our Honda Fit last year, we now drive a 2013 Subaru Outback.
What's Your Family's Favorite Activity? We enjoy sledding in the winter, playing baseball in the summer and going on family adventures in between.
Jennifer Geiger, Assistant Managing Editor
I joined Cars.com in 2011 as a reviewer and manager of the Kicking Tires news site. As a certified child safety seat installation technician and a mom, I also spend a lot of time installing child-safety seats in test cars and writing about family and safety news. How I wound up in automotive journalism is something I still ask myself, often out loud, in moments of both awe (piloting a Mercedes-Benz CLS AMG through Napa Valley's twisties) and annoyance (slogging through rush-hour traffic in a Smart ForTwo).
How Old Are Your Kids? I have a 3½-year-old daughter and twins who are due this summer.
What Does Your Family Drive? I live in downtown Chicago, so when I'm not walking, I drive from one to three test cars a week, and if it happens to be pink (the Chevrolet Spark comes to mind), it quickly becomes my daughter's favorite.
What's Your Family's Favorite Activity? In the summer, we hit the bikes, pedaling Chicago's lakefront path or biking to the various playgrounds in our neighborhood. In the winter, we like to explore Chicago museums; the Peggy Notebaert Nature Museum and the Shedd Aquarium are two favorites.