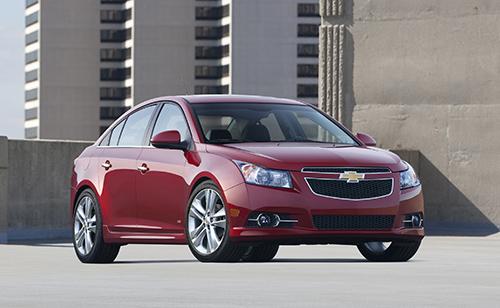 Vehicles Affected: About 174,046 model-year 2013-2014 Chevrolet Cruze sedans equipped with a turbo 1.4-liter engine and manufactured between Nov. 28, 2012, and March 7, 2014.
The Problem: The right front half shaft may fracture and separate while driving, potentially causing the vehicle to lose power and coast to a stop. If a vehicle with a fractured half shaft is parked without the parking brake applied, the car could move unexpectedly. Either condition increases the risk of a crash. The recall comes after GM recently announced that it was ordering dealers to stop selling 2013 and 2014 Cruzes with the 1.4-liter engine, but did not reveal why at the time.
The Fix: GM will initially notify owners starting April 28 and a second time when parts are available, and dealers will inspect and replace the right half shaft, if necessary, for free. Some vehicles in this recall were subject to another recall initiated in August 2013 and repaired using defective parts. GM also said those owners will be advised that they must have their vehicles fixed again under this new recall campaign.
What Owners Should Do: Owners can call Chevrolet at 866-694-6546 or the National Highway Traffic Safety Administration's vehicle-safety hotline at 888-327-4236, or go to www.safercar.gov, for more info.
Manufacturer image