Subaru VIZIV 2 Concept at the 2014 Geneva Motor Show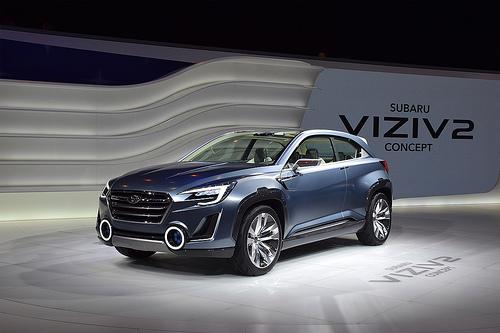 Looks like: Yet another dynamic-looking concept from Subaru
Defining characteristics: Plug-in hybrid powertrain
Ridiculous features: Scissor-like front doors; they're hinged at the front corners and open upward
Chance of being mass-produced: Subaru has announced plans to replace the Tribeca, its largest SUV; could the concept be a preview of the Tribeca's replacement?
Subaru spells "vision for innovation" VIZIV with its new crossover concept. Versions of the hybrid concept were shown at the 2013 Geneva International Motor Show as well as the 2013 Tokyo Motor Show, but this iteration, called VIZIV 2, has four doors and room for four adult passengers, according to Subaru.
Part of the VIZIV 2 concept's front end should ring some bells; it wears a large hexagon-shaped grille that's similar to the redesigned-for-2015 Legacy. The slitlike headlights that flank it are reminiscent of those on the 2015 WRX. The striking circular LED fog lamps, however, don't really share the Subaru family resemblance.
Under the hood is a 1.6-liter turbo-diesel engine paired with a continuously variable automatic transmission, three electric motors and a lithium-ion battery pack. The engine and one motor power the front wheels and the other two power the rear wheels.
In terms of safety features, Subaru says the concept uses an autopilot system but didn't provide details. It also features the next generation of the automaker's EyeSight safety system, which uses radar and cameras to detect and monitor traffic situations and conditions.
Check out the gallery below.
Manufacturer images