What Did it Cost to Own Our 2013 Honda Civic?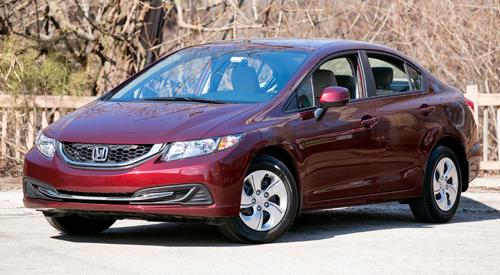 It's time to say goodbye to our 2013 Honda Civic LX after 15,450 miles of use as one of Cars.com's long-term test cars. We bought the Civic to evaluate the big changes Honda made for 2013 to up its competitiveness after a snooze-tastic 2012 redesign.
With the exception of the rear end being smashed by another car while our Civic was parked, owning this sedan was as uneventful and predictable as its passing power. Our LX sedan with an automatic transmission required two oil changes, a tire rotation and an inspection, plus we threw a set of wiper blades on the car and had it detailed when a funky smell invaded the interior after a wet spring.
All told, we forked over $2,105.8 in ownership costs over the year. Our observed average fuel economy after 15,450 miles (31.73 mpg) is nearly spot-on with the 32 mpg combined EPA rating and contributed to a fuel cost of $1,752.71. The highest recorded mileage of 42.83 mpg on a tank of gas topped the 39 mpg highway rating, while the lowest recorded tank of 21.4 mpg was far below the 28 mpg city rating.
An onboard maintenance minder system lit up the Civic's center display screen around 6,500 miles and 15,000 miles, notifying us it was time to take the Civic in for its regular A1 and B1 services, respectively. We outline the A1 service here, while the B1 service included a thorough inspection of the brakes and provided us with remaining front brake pad and rear brake drum life, parking brake adjustment and fluid inspection on top of the oil change and tire rotation.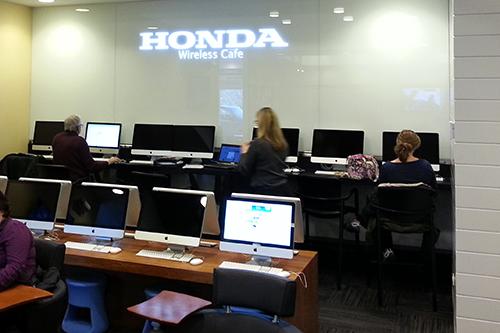 The B1 service took about an hour at our local Honda dealership. The dealership's waiting area was filled with a surprising number of amenities that you'd expect at a luxury automaker's dealership: Apple computers, laptop rentals, strong WiFi, numerous high-definition TVs, name-brand coffee and comfy seating. It was a huge departure from a traditional waiting area with car magazines and stiff plastic chairs. Even if the Civic were more problematic I don't think I'd mind spending more time in this dealer's waiting area.
2013 Honda Civic: Real-World Damage
We had an atypical experience selling the Civic because of the collision and resulting repairs. Private-party value of an accident-free car hovered around $15,500, so we listed ours on Cars.com at $14,000 and fully disclosed the accident before dropping the price to $13,000. We accepted an $11,000 offer from Carmax, adjusted for the collision, because of the short timeframe we have to sell our cars. The selling price represents a 42 percent loss ($7,965) compared to the $18,965 MSRP. With or without the accident, it isn't a good practice to sell a new car after one year because of the depreciation hit. This is not the typical sale most car owners experience.
Cars.com photos by Evan Sears, Joe Bruzek and Mike Hanley