2014 Chevrolet Impala Ownership Costs: First Quarter

We've spent money on fuel and floormats for our 2014 Chevrolet Impala after three months and 3,000 miles of driving, but little else. The Impala is one of our Cars.com long-term test cars and our Best of 2014 winner.
The Impala's OnStar online vehicle diagnostic information tells us to expect an oil change at 5,300 miles, but even then, we don't expect maintenance to be an ownership cost. Our Impala is backed by Chevrolet's two-year/24,000-mile maintenance program that includes oil and filter changes, tire rotations and a 27-point inspection for up to four scheduled services within the program's term.
We Bought a 2014 Chevrolet Impala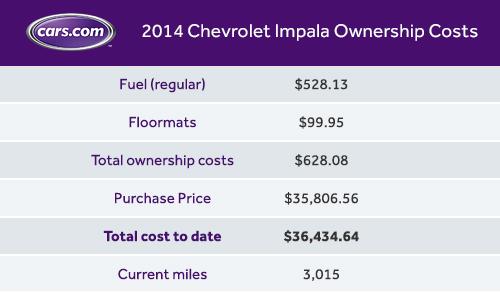 Cars.com photo by Evan Sears