2015 Chevrolet Trax: Up Close and Driven
Chevrolet expects the small SUV segment to blossom in the next few years, with a growth of 80 percent by 2016. Chevrolet's new entry for the U.S. in this segment is the Trax, a five-passenger compact SUV that slots below Chevrolet's popular Equinox; the Trax is already on sale in Canada and other global markets. I briefly drove a Canadian-spec Trax at a Chevrolet preview drive at Monticello Motor Club in New York.
The Trax shares many of its driving qualities with the Chevrolet Sonic on which the SUV's platform is derived from. The sole turbocharged 1.4-liter four-cylinder engine is potent enough to make the small SUV feel spritely and pairs with a well-sorted chassis to live up to its sporty claim.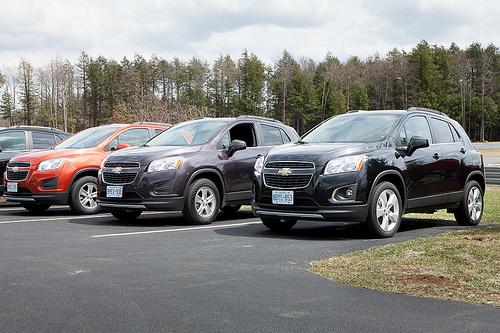 2015 Chevrolet Trax: First Look
The Trax has a balanced blend of ride comfort and sportiness, though the 138-horsepower, turbocharged four-cylinder doesn't provide an immediate rush of acceleration from the start. A moderate surge of power around 2,500 rpm gave my test LTZ with all-wheel drive a nice kick in the butt. Once you're already moving, though, the six-speed automatic transmission does a fine job of keeping the engine in a happy place and maintaining acceleration. The Trax is light on its feet and doesn't drive as high-centered as it looks.
The inside's styling is so similar to the Sonic that the Trax could easily be mistaken for it in photos. Key differences include the gauge cluster that's flush instead of a floating display and a covered storage cubby on top of the center console. The Trax's visibility stands out compared to the Sonic hatchback with its taller windows, more squared roofline and less-intrusive C-pillars. Still, rearward visibility isn't the greatest, making the standard backup camera a must-use tool.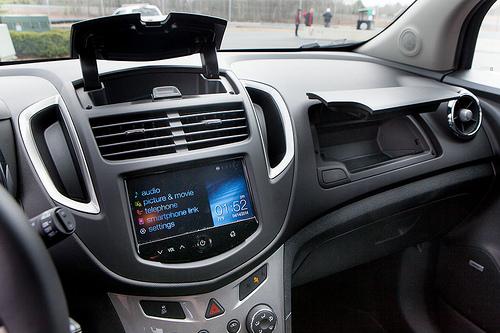 Creating maximum cargo room means folding the rear seats flat using a process that isn't as modern or simple as in many other small SUVs or hatchbacks. The Trax's rear seat first requires flipping the split seat cushion forward and then releasing the seatback to fold it down. It's an older style that's much less convenient than the simple one-step process in the Kia Soul or Nissan Juke. The rear seat lacks sliding and reclining adjustability so comfort is a take-it-or-leave-it notion. My 6-foot-tall frame had sufficient space, though I wouldn't call the backseat's upright position comfortable.
Up front is where you'll find more modern appointments including the standard 7-inch touch-screen and numerous storage areas for multimedia devices. The touch-screen is responsive and easy to use with bright, large text. Multimedia devices can be stored in the upper glove box or upper center console storage box, though neither is large so it's good there's another storage bin under the front passenger seat.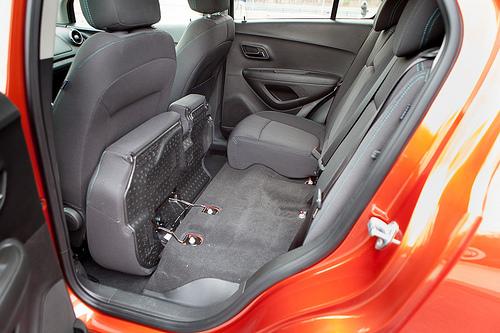 Pricing isn't out yet, but why buy this over the Sonic hatchback? The advantages of the Trax's SUV boxy style include available all-wheel drive and a tall, upright seating position; it also has better visibility than a hatchback. Cargo volume doesn't seem to be one of the Trax's advantages, however. According to initial specifications, its 48.4 cubic feet of maximum cargo space isn't much of an increase compared to the Sonic hatchback's 47.7 cubic feet, though the Trax's cargo room is still competitive with other compact SUVs.
The Trax goes on sale in early 2015; pricing will be announced closer to its on-sale date.
Cars.com photos by Joe Bruzek