2015 Fiat 500 Turbo Photo Gallery (14 Photos)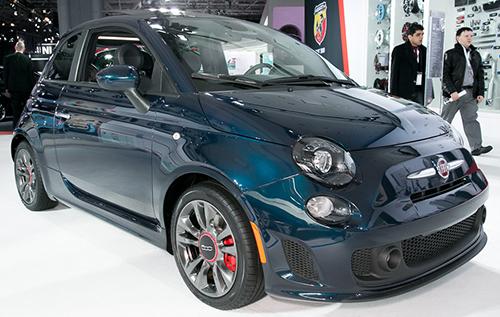 Fiat is shifting gears for the 2015 model year, offering the performance-oriented small car, the 500 Turbo, with an optional six-speed automatic transmission in an effort to lure younger buyers. Visitors to the 2014 New York International Auto Show can see the new 500 Turbo — sans stick — today through April 27 as Fiat showcases the model's 2015 lineup.
More 2014 New York Auto Show Coverage
Set to arrive at dealerships in July, the new 500 Turbo continues to offer a Fiat-fabulous look, punctuated by an aggressive front end, unique 16-inch aluminum wheels, a roofline-elongating liftgate-mounted spoiler and a black-accented rear diffuser. Inside, the 500 Turbo gets a new-for-2015 instrument panel with a 7-inch high-definition display.
Check out the gallery below; Cars.com photos by Evan Sears.