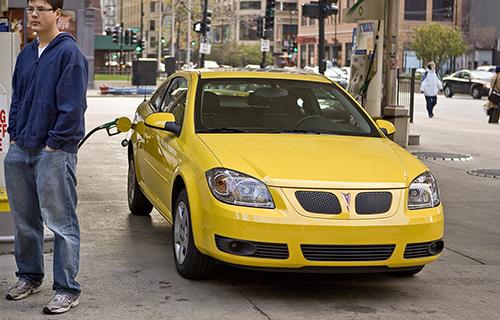 By Rick Popely
Gas prices continued to rise in most parts of the country the past week, and for the first time since early January the national average for regular unleaded was higher than on the same date a year ago.
Top 10 Cheapest New Cars You Can Buy
The national average of $3.61 for a gallon of regular gas was 4 cents higher than on April 10, 2013, according to Thursday's AAA Daily Fuel Gauge Report, and the highest since early August. That ends a 14-week streak in which pump prices were lower than a year ago.
Pump prices peaked early in 2013, topping out at $3.79 on Feb. 27, so at this time last year prices were on their way down.
Though prices are still rising this year, AAA doesn't expect prices to go as high as they did last year, and the increases could end soon.
"Peak pump prices are likely in sight for many drivers across the country. However, temporary spikes are not out of the question for motorists in a region that might be affected by an unexpected disruption. These sorts of issues have been minimal so far this spring, but the coming weeks will bear watching," AAA said in a news release.
One such disruption has occurred in Texas, where AAA said four refineries are undergoing planned or unplanned maintenance, reducing the supply of gas and causing prices to creep up in the Gulf Coast states. Prices rose 6 cents or more the past week in Texas, Louisiana, Arkansas and Mississippi.
The biggest jump the past week was in Ohio, where prices spiked 15 cents for a statewide average of $3.73. Motorists in Kentucky and Alabama saw prices rise 12 cents. In both states, the average has climbed 19 cents during the past two weeks to $3.51 in Alabama and $3.71 in Kentucky.
Whereas in early January some states were flirting with $3-per-gallon averages, the lowest in the land now stands at $3.30 in Montana. Utah was second-lowest at $3.32, followed by New Jersey and South Carolina at $3.38. Recent price fluctuations by state have been uneven. South Carolina's average price for regular unleaded has increased 12 cents during the past two weeks, but New Jersey's hasn't budged.
New Jersey stands in stark contrast to next-door neighbor New York, where the average was unchanged from a week ago at $3.78. New York and nearby Connecticut ($3.79) have ranked among the most expensive states for gas this year, but Illinois moved past both with an 8-cent increase the past week to $3.84. In the city of Chicago, where higher taxes boost prices, the average was $4.20, 12 cents higher than a week ago.
Hawaii had the highest state average at $4.30 a gallon, followed by California, where prices rose 6 cents to $4.07. Motorists were paying an average of $4.11 in San Francisco and $4.15 in Los Angeles.
At the same time gas prices increased in most states, the price of diesel fuel continued to creep lower. The $3.96 national average for diesel on Thursday was a penny lower than a week ago and 2 cents less than a year ago.
Cars.com photo by Evan Sears