GM CEO Testifies Before Congressional Panel on Ignition Switch Recalls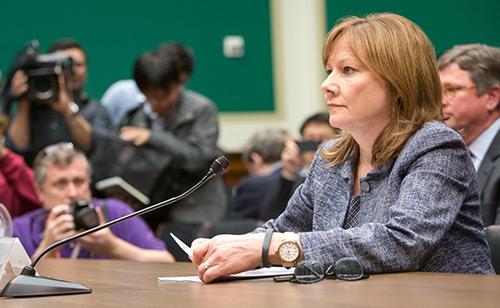 GM CEO Mary Barra testified this afternoon before a U.S. House of Representatives subcommittee investigating the automaker's recall of more than 2.5 million vehicles worldwide for faulty ignition switches that have been blamed in at least 31 crashes and 13 deaths. House committee members took turns grilling Barra with questions focusing heavily on when it came to the automaker's attention that faulty switches had been used in the 2003-10 Saturn Ion and 2007-10 Sky, the 2006-10 Pontiac Solstice and 2005-10 G5, and the 2006-11 Chevrolet HHR and 2005-07 Cobalt, and why after repeated complaints and defect discoveries in subsequent years the faulty ignition switches continued to be used. Panel members also attempted to get to the bottom of how numerous communication breakdowns between GM and the National Highway Traffic Safety Administration had occurred.
More GM Ignition Recall News on Cars.com
After reiterating in her opening statement her earlier apology to the victims of the ignition switch problem and their families, Barra repeatedly responded to subcommittee members' questions by saying she would have answers only after GM completed its ongoing internal investigation. One new piece of information Barra did report to House members was that GM has hired lawyer Kenneth Feinberg, who has overseen the victim-compensation process after the Sept. 11 terrorist attacks, the BP oil spill and the Boston Marathon bombing.
The ignition switch recall already involves more than 2.5 million vehicles worldwide, with the most recent expansion of nearly 900,000 vehicles announced last week. Meanwhile, millions more GM vehicles have been recalled for problems unrelated to the ignition switch issue — first announced in February — as the automaker looks to make a good on a public promise to overhaul its safety-assurance procedures. That's after it came to light that GM had first discovered the problem as far back as 2001 during preproduction, canceled a redesigned key four years later and failed to issue a recall until just recently. On March 18, Barra announced that she had appointed company veteran Jeff Boyer to the role of safety chief to oversee safety development of all vehicle systems, including confirmation and validation of safety performance and post-sale activities, particularly recalls.
David Friedman, acting administrator for the National Highway Traffic Safety Administration, will also testify and is expected to point the finger at GM for not providing more data to the agency. Get the full story from the Detroit News, here.
GM image