Honda Boosts 2015 Fit's Gas Mileage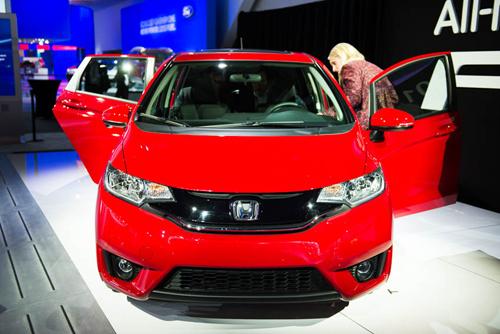 The redesigned 2015 Honda Fit receives a much-needed fuel economy boost over the outgoing model's wimpy 31 mpg combined rating with automatic transmission. For 2015, Honda bumps the Fit's EPA ratings as high as 36 mpg combined (33/41 mpg city/highway) on LX trim levels with the optional automatic transmission.
New engine and transmission technology unlock the improved mileage now that the engine uses direct injection and a new continuously variable automatic transmission, which replaces a conventional five-speed automatic. Don't do the CVT cringe just yet, however; Cars.com reviewer Kelsey Mays was impressed by the Fit's drivability with the CVT in his review of the 2015.
Manual-transmission models also get a bump in gas mileage but not as significant as the automatic, and EX/EX-L trim levels are rated lower than the LX. The six-speed manual transmission gains an extra gear for 2015 and is rated at 29/37/32 mpg city/highway/combined — up from 27/33/29 — while EX and EX-L models with the CVT are 32/38/35 mpg. LX trim levels are rated higher because they're the optimized trim level for fuel economy with an aerodynamic underbody covering and less weight compared to the EX/EX-L trim levels.
The most efficient 2015 Fit, an LX with the optional CVT ($800), starts at $17,115 with destination. The new 2015 Fit goes on sale April 14.
2015 Honda Fit To Start at $16,315
The Fit's boosted mileage ratings are much more competitive than the outgoing model. See below for a comparison to popular hatchback competitors.
2015 Honda Fit LX (CVT): 33/41/36 mpg (city/highway/combined)
2015 Honda Fit EX/EX-L (CVT): 32/38/35 mpg
2015 Honda Fit (manual): 29/37/32 mpg
2014 Nissan Versa Note (CVT): 31/40/35 mpg
2014 Nissan Versa Note (manual): 27/26/30 mpg
2014 Toyota Yaris (manual): 30/37/33 mpg
2014 Toyota Yaris (automatic): 30/36/32 mpg
2014 Hyundai Accent (manual): 27/38/31 mpg
2014 Hyundai Accent (automatic): 27/37/31 mpg
2014 Ford Fiesta SFE 1.0-liter EcoBoost (manual): 32/45/37 mpg
2014 Ford Fiesta SFE (dual-clutch automatic): 30/41/34 mpg
2014 Ford Fiesta (dual-clutch automatic): 29/39/32 mpg
2014 Ford Fiesta (manual): 27/38/31 mpg
Cars.com photo by Evan Sears