Kia Eight-Passenger Mystery Machine: It's a Minivan!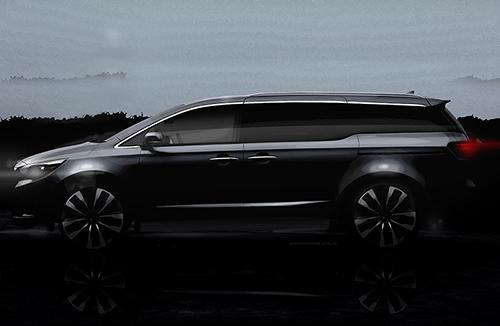 A week after releasing a teaser image and cryptic description of an "all-new midsize multi-purpose vehicle" with seating for eight, Kia today came clean about the mystery vehicle. It's the 2015 Kia Sedona, and it's set to make its public debut next week at the 2014 New York International Auto Show. The announcement confirmed widespread suspicion that it was a minivan, though some of us at Cars.com admittedly saw an aggressive-looking crossover when we first laid eyes on the shadow-obscured image. But of course there's no mistaking it now from the image above.
Kia to Debut New Eight-Passenger Vehicle at 2014 New York Auto Show
According to Kia, the minivan will be powered by a 3.3-liter direct-injected V-6, and offer a host of tech and safety features, including the next-gen UVO Infotaintment & Telematics system. "With several new eServices features, the 2015 Sedona is designed to be the perfect companion for any lifestyle and accommodate any adventure on the road," the Korean automaker said in a statement.
Check back with Kicking Tires as we cover the 2015 Sedona's unveiling at the New York Auto Show. Our on-site coverage begins Wednesday.
Manufacturer image