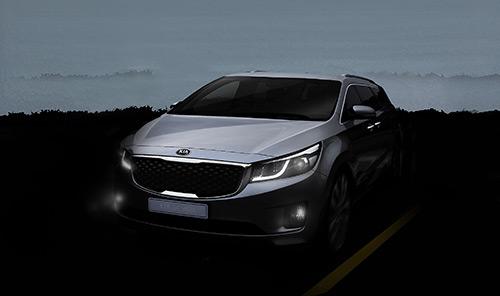 Kia announced today that it will unleash an "all-new midsize multi-purpose vehicle" later this month at the 2014 New York International Auto Show. The Korean automaker shared few details about the vehicle, but judging by a teaser photo, it looks like a crossover SUV with a bit of an evil attitude courtesy of a sinister-smiling front grille and large, angry-looking headlights.
More 2014 New York Auto Show News on Cars.com
"This global debut will challenge the segment and will offer the functionality to transport as many as eight passengers and their belongings while also serving as a purposeful offering for adventure seekers," Kia said in a statement.
The 2014 New York International Auto Show runs April 18-27 at the city's Jacob Javits Convention Center. Cars.com will be there to cover the Kia unveiling, as well as all the other action, so be sure to check back in with us.
Manufacturer image