Mercedes-Benz Teases 2015 AMG GT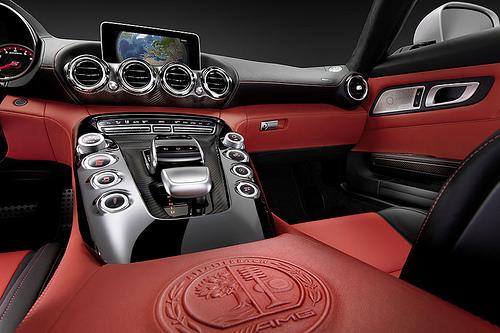 Mercedes-Benz is planning a new AMG GT for 2015, but it's only offering us a glimpse of the supercar's interior — for now. The automaker released pictures at a New York International Auto Show preview event and promises more details will follow.
More 2014 New York Auto Show Coverage
The 2015 AMG GT follows the SLS AMG as the second sports car to be developed independently by Mercedes' AMG performance arm. The automaker confirmed V-8 power and supplied two interior images depicting a cabin lined with red leather and what looks like carbon fiber, along with an emphasis on design that favors both sport and luxury.
The automaker says the control layout was styled to convey power and follows the brand's "aviation design" theme. The center console controls are arranged to resemble a V-8 cylinder pattern. There's also a wide, winged-looking dash and four central climate-control vents flanked by two single vents at the left and right ends of the dashboard.
Stay tuned for more; Mercedes says the entire car will make its world debut this fall.
Manufacturer images