Real-Life Test: 3 Car Seats in the 2014 Jeep Grand Cherokee
So, you have three kids in child-safety seats, and you're not quite ready for a minivan? Welcome to the club. As a former member of the "there's no way in hell I'm driving a minivan" club, I feel your pain. I remember while pregnant with my second child, glaring at the used-car salesman when he brought me over to a minivan just to "check it out," and I'm pretty sure the only reason I drove off in a Toyota Prius that day was to spite him.
Related: Which Cars Fit Three Car Seats
Now that I have three children in car seats, I've joined the "Minivan Lover" club, but I know some parents haven't. Many are fighting the good fight, steadfast in their anti-minivan stance. For the strong-willed ones, I'm determined to find you some minivan alternatives, like the 2014 Jeep Grand Cherokee.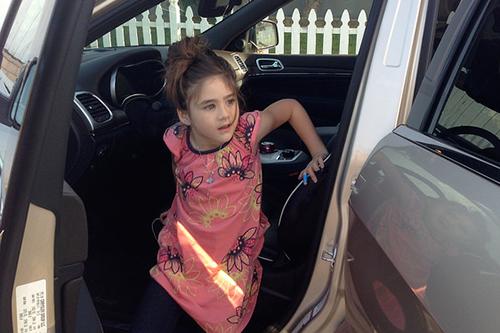 Since its redesign in 2011, the Grand Cherokee has fit three child-safety seats across its backseat in our Car Seat Checks. I recently put the 2014 Grand Cherokee, winner of Cars.com's Midsize SUV Challenge, to the test of hauling three car seats and my kids around for a week. The 2014 model received exterior and interior updates, but it still worked with my three car seats. Fitting them across the second-row bench seat was a lot like configuring a jigsaw puzzle (a bulky, sailor-mouth-swear-inducing jigsaw puzzle), but they fit.
Getting my kids in was another story. The first time I opened the rear door for my 5-year-old to climb in, she laughed out loud at how squished her sisters were in the backseat. They were so crammed in that we decided it would be easiest for her to climb through the front row and hop over the center console bin to get to her combination car seat in the center position. It sounds complicated, but that was the easiest solution we could come up with.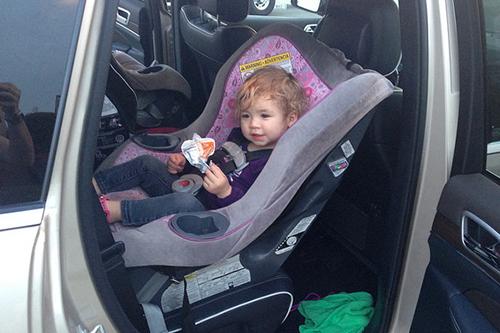 My 20-month-old's rear-facing car seat, which was positioned behind the front passenger seat, blocked entry to the backseat, and my 3-year-old's forward-facing convertible stuck out so much that it was awkward for my older daughter to squeeze between it and the driver's seatback, especially when my 3-year-old was in the car seat. It wasn't ideal, but the configuration was the only one I could come up with to squeeze all three seats in the Grand Cherokee's backseat. My 5-year-old was a good sport; however, this setup made school pickups and drop-offs that much more stressful.
In the front seats, my husband and I weren't lounging with extra legroom. To fit the car seats in the backseat, we had to scoot our front seats farther forward than usual. I've found that no matter how amazing a car is, cramped legs supersede whatever super qualities the vehicle offers.
After a few days of living like sardines, we were ready to climb back into our minivan and spread out. If I only had two kids and they were out of rear-facing car seats, the Grand Cherokee would work. Unfortunately for our large family, it was just too cramped.
Cars.com photos by BreAnn Ahara