Limited Edition Scion FR-S Debuts in Yuzu Yellow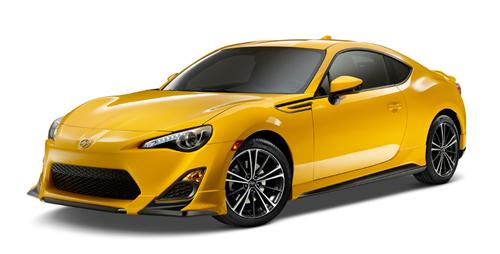 At this week's 2014 New York International Auto Show, Scion unveiled the latest special edition of the rear-drive FR-S coupe. Dubbed the now-familiar Release Series, in this case the inaugural Release Series 1.0, the special edition will have a production run of just 1,500 cars when it hits Scion showrooms in August.
More 2014 New York Auto Show Coverage
All of them will have Yuzu paint — to wit, bright yellow. (Yuzu is an Asian citrus fruit; it's also the name for an untold number of Japanese restaurants.) Changes to the FR-S' taut lines include a custom rear spoiler, front and rear ground effects, and side fender garish — er, garnish.
The Release Series also gets a lowered suspension and quad exhaust pipes from the TRD aftermarket division of Scion's Toyota parent. (That's one pipe for every 0.5 liter of engine displacement, kids.) Inside, the car has a TRD steering wheel and shifter, the latter with the build number (one through 1,500) etched into the surrounding plate. High-intensity-discharge headlights and dual-zone automatic climate control are also standard.
Scion didn't reveal pricing or a model year yet, but it said the Release Series 1.0 will start at less than $30,000, including destination. The slow-selling FR-S starts at $25,455 with destination.
The Release Series isn't the first special edition of the FR-S. A 10-year anniversary edition FR-S (for 10 years of Scion) hit dealerships in June 2013, and an FR-S Monogram Series landed at dealerships in February 2014. Both have limited production runs, but current Cars.com new-car inventory still shows hundreds of each.
Manufacturer images