2014 Ford Transit Connect Wagon: First Drive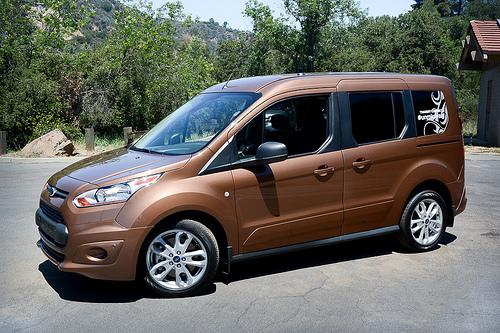 New cars are expensive these days, there's just no getting around it. If you have a family to feed and a budget to keep, affording a new people mover to cart around your brood can be increasingly difficult. Ford thinks it has an interesting option for buyers who need the space and functionality of a minivan, but can't afford minivan prices.
2014 Ford Transit Connect Wagon: First Look
The new 2014 Transit Connect Wagon is the second generation of Ford's front-wheel-drive compact commercial van. Unlike the previous generation, Ford is trying a new tack with this version. While a cargo van version caters to the commercial market for delivery duty or small business use, the passenger-carrying wagon version will be marketed to retail customers as an alternative, less-expensive, fewer-frills "unminivan." How is this going to work?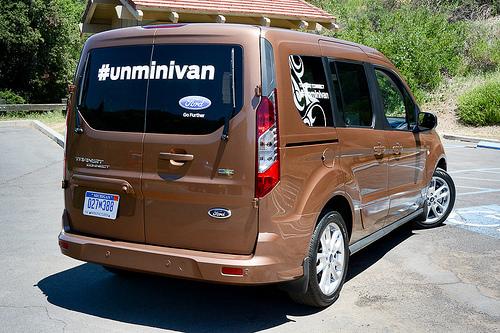 The Transit Connect is, essentially, a Ford Focus with a long, tall, upright van body. The chassis is the Ford "C1" compact car platform that underpins the Ford Focus, Escape crossover and C-Max Hybrid in the U.S. The big difference is that the Transit Connect features a far more spacious body than any of those cars and even comes in two lengths and two types: wagon or van. The van is a commercial truck, but the one we just tested is the wagon, which can carry up to seven passengers if you opt for the long-wheelbase version, five if you go with the shorter model.
It's an attractive little truck, with a modern, stylish look to the front and rear ends that's better than the bread-box appearance of the outgoing van. It doesn't look like a minivan, but it doesn't look like a commercial truck either. The sloping window glass and blacked-out pillars make the Transit Connect Wagon look astonishingly like a big, beefed-up Kia Soul — and that's not a bad thing. Two powertrains are available, but it gets a bit tricky as to how you can equip the model of your choice. The short-wheelbase model uses either a standard 169-horsepower, 2.5-liter four-cylinder or an optional 178-hp, turbocharged 1.6-liter four-cylinder, depending on trim level. Both are mated to a standard six-speed automatic transmission, sending power to the front wheels only. Strangely, the turbo engine is not available in the long-wheelbase model, making us wonder why Ford wouldn't make the more powerful engine an option for the heavier truck.
Both powertrains adequately move the Transit Connect around town with ease, but the turbocharged engine in the short-wheelbase version is actually enjoyable, with enough torque from a standing start to generate a fair bit of steering wheel movement if you punch the gas. Both engines are best suited to around-town driving, however, as passing power at freeway speeds isn't exactly abundant. There's enough to keep up with traffic, but overtaking needs to be planned in advance. The benefit of having such small engines in a small van like this is fuel economy: The Transit Connect is rated at 20/28/23 mpg city/highway/combined for the 2.5-liter engine, climbing to a respectable 22/29/25 for the turbocharged EcoBoost model (wheelbase length does not impact fuel economy). That matches the highway fuel economy of the more expensive Honda Odyssey, and bests both the Dodge Grand Caravan and Hyundai Santa Fe, all of which feature standard V-6 engines.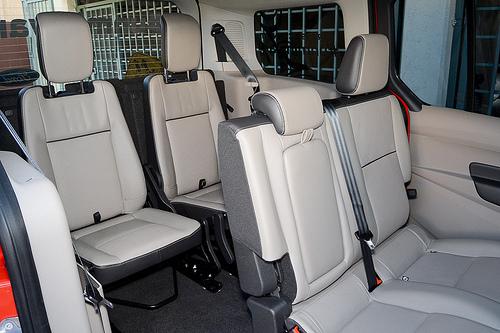 Handling is excellent for such a tall vehicle with some body roll in cornering, but it never feels tippy or too tall for its tires, a testament to how the Transit Connect is built — everyone sits very low inside, meaning the vehicle's center of gravity is also low. Steering is direct and firm, but the brakes feel a bit on the soft side, despite being four-wheel discs all around. Ride quality is choppy in the short-wheelbase version, but smooths out admirably in the long-wheelbase model.
Slip inside and you'll be greeted by an interior familiar to any modern Ford compact vehicle owner. The dashboard is almost identical to the Ford Escape's and C-Max's, albeit with more cost-saving hard plastic instead of the soft-touch materials in those vehicles. The seating position is the same too, with a very low, carlike height that provides an enormous amount of headroom — nearly a foot of space between the top of the average driver's head and the roof of the van. The front seats are firm and the bottom cushions are short, but they feature plenty of adjustability for all body types, and there is more than enough hip and elbow room.
Behind the driver is a choice of one or two split, folding benches, depending on wheelbase length. There are two sliding minivan-style doors, but power sliders are not available — one of a couple missing features that keep the cost of the Transit Connect Wagon down, but that may give family buyers pause. The second-row seats are also spacious, and the generous amount of headroom creates an open feeling. In short-wheelbase vehicles, the second-row seat bottoms fold up and the seat backs fold down; they're also removable. In long-wheelbase models they fold flat into the floor, as do the third-row seats, to create a long, flat load floor for cargo. Those third-row seats also slide fore and aft to accommodate occupants or cargo as needed. None of the seats are powered, however, and folding them takes a bit of training and flexibility. The rear door can be either a hatchback or a 50/50-split cargo door, depending on your preference — but just like the side doors, there is no power liftgate option.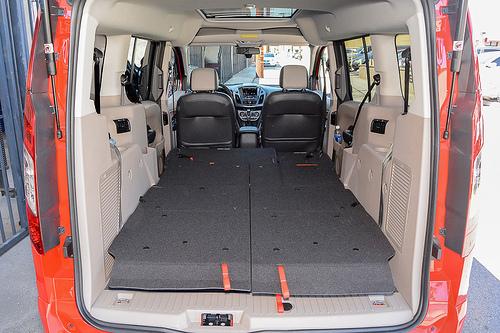 Being a cargo van as well as a wagon means there's a lot of room to haul things, if you need it. Cubbies abound in the passenger compartment, including a generous overhead storage area at the top of the windshield. Fold all the seats down and you get either 77.1 cubic feet of cargo room in the short wagon or 104.2 cubic feet in the long wagon, while still carting the seats around with you if you need them. Obviously it can't beat the Honda Odyssey's maximum cargo room (148.5 cubic feet in total) or the Dodge Grand Caravan's (148.3 cubic feet), but it handily bests big seven-passenger SUVs like the Hyundai Santa Fe (80 cubic feet).The Transit Connect Wagon's commercial van roots also provide it with a 2,000-pound tow rating and a 1,270-pound payload capacity, the latter being more than many compact pickups offer.
Start ticking option boxes and you can equip your Transit Connect Wagon with all the latest amenities as well, including heated leather seats, forward and reverse parking sensors, dual-zone automatic climate control, a fixed-panel glass panoramic roof, rearview camera, even Ford's Sync system with MyFord Touch navigation, albeit in a smaller 6.5-inch screen instead of the 8-inch screen available in the Escape, Focus and C-Max. This touch-screen comes out of the Fiesta, and while it provides all of the functionality of the bigger model, it's hard to use. Ford simply shrank the larger system to fit the smaller screen and didn't redesign anything to make it usable at the smaller scale. As a result, every button seems one-third smaller than in the Escape or Focus, and it's difficult to drive and find the right button at the same time — often resulting in the wrong button selected. Thankfully, voice controls are also part of that package, and they now work considerably better than they used to.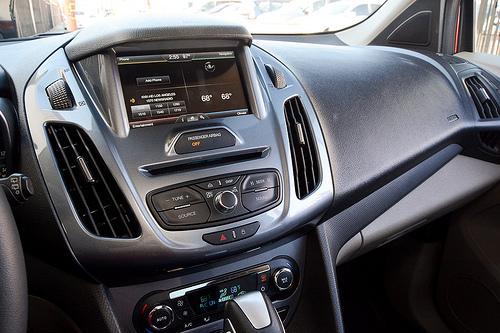 Pricing is somewhat confusing. The short-wheelbase Transit Connect Wagon is the least-expensive wagon model, but it only comes in midrange XLT trim starting at $25,520 (all prices include a $995 destination fee); adding the turbocharged engine will cost $795. The long-wheelbase seven-passenger wagon starts at the lower XL trim level for $25,995, steps up to the XLT at $27,520 and tops out at the Titanium trim level for $29,995. There is no cost difference between choosing split rear doors or a liftgate. Well-optioned examples I drove in Southern California stickered in the high $20,000s-to-low-$30,000s range.
The issue with this pricing is one of competition - Ford says it is targeting young "passionate indies" (basically interpreted as "small-business-owning hipsters with kids") who don't want a traditional minivan or may need to use a vehicle for both work and family duty. The problem is that one can acquire a new full-size seven-passenger minivan for considerably less than the starting price of a Transit Connect Wagon — the Dodge Grand Caravan has an "American Value Package" edition that puts you in a family hauler for just $21,590, nearly $4,000 less than a five-passenger Transit Connect Wagon XLT or seven-passenger Wagon XL. This is unique, however, because other mainstream vans like the Honda Odyssey start nearly $4,100 more than the Transit Connect, while you'll need an extra $5,000 to get into a seven-passenger Hyundai Santa Fe SUV.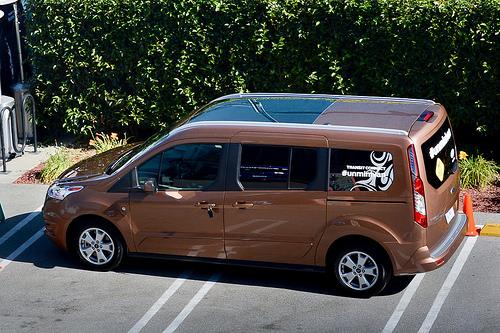 The Transit Connect Wagon is an interesting compact alternative to big vans and SUVs, but isn't likely to attract family buyers in droves. Its lack of power doors will be a deal-killer for some family buyers, but for the small subset of buyers who use their vehicle for both work and play, Ford's new budget-conscious, family-capable work van may fit quite well.
Cars.com photos by Aaron Bragman