2014 Jeep Cherokee Mileage Update: 5,192 Miles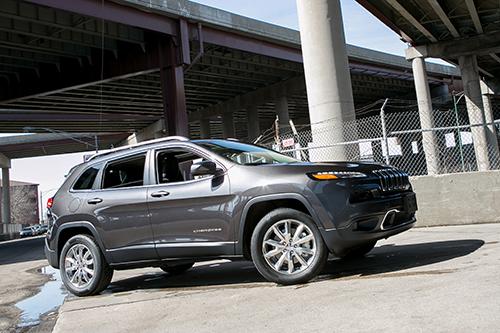 Cars.com's long-term 2014 Jeep Cherokee test car racked up a massive 2,296 miles last month after an extensive road trip that logged almost double the mileage we've recorded in our first three months of ownership. The trip from Chicago to northern New York, then in the reverse direction to Detroit and finally back to Chicago bested many of the Cherokee's previous fuel economy numbers and boosted its overall average by nearly 2 mpg.
That trip generated big numbers for the Cherokee, exceeding the EPA's 28 mpg highway rating with a 30.97 mpg tank. If you don't recall, our Cherokee is a four-cylinder model with the base all-wheel-drive system and nine-speed automatic transmission. It's not surprising that the tank with the highest-recorded fuel economy also demolished the previous best range by 68.7 miles, going 419.7 miles before needing to be refueled. The road trip helped bump its overall average from a disappointing 20.68 mpg to a better 22.6 mpg average after 5,192 miles.
Cars.com photo by Evan Sears