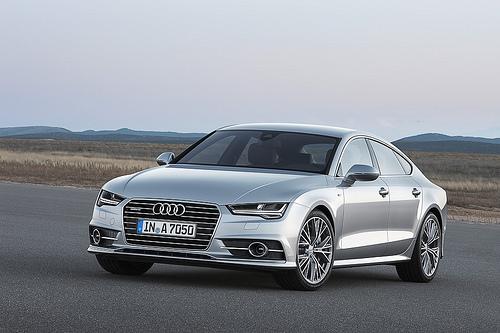 Competes with: BMW 5 Series GT, Porsche Panamera
Looks like: Audi's striking four-door coupe retains its swoopy profile but gains a more chiseled front and rear end
Drivetrain: 310-hp, supercharged 3.0-liter V-6 (3.0T); 240-hp, turbocharged 3.0-liter diesel V-6 (TDI); 420-hp, 4.0-liter V-8 (S7); 560-hp, 4.0-liter V-8 (RS 7)
Hits dealerships: Audi said the car will go on sale in Germany late this summer, but would only confirm a 2015 on-sale date for the U.S. market
Audi's sleek "four-door coupe" is getting a light refresh for the 2016 model year. The 2016 A7 is updated with a slightly revised face, tweaked rear-end design and updated cabin materials.
Exterior
The A7's stunning good looks only get enhanced for 2016. Its large, aggressive grille gets a sharper look with a flatter LED headlight design and more chiseled looking bumper. In back, the sedan wears a sleeker taillight design and wider, shapelier exhaust ports.
Interior
The 2016 model's cabin also gets a light update with new materials as well as more color and seat options. The new materials include aluminum, Beaufort walnut inlay trim and Valcona leather; the color palette has been expanded to five colors for the seats and there are now four different types of seats to choose from.
The controls, including Audi's MMI Navigation Plus system with screen, knob and touchpad controls will again carry over, as will the Audi Connect in-vehicle WiFi connectivity system.
Under the Hood
A host of gas and diesel engines are available in Europe for 2016, but the U.S. model's powertrains carry over. The standard engine is again the 310-horsepower, supercharged 3.0-liter V-6. New for 2014, the optional 240-hp, turbocharged 3.0-liter diesel V-6 returns; both engines are mated to an eight-speed automatic.
The higher performance S7 model and its 420-hp, 4.0-liter V-8 will again be available; it will again pair with a seven-speed automated manual transmission. The uber-beefed-up, new-for-2014 RS 7 model and its 560-hp, 4.0-liter V-8 is also likely to carry over to the 2016 model year.
The car will go on sale first in Germany late this summer and will hit the U.S. market in 2015. The automaker hasn't yet announced U.S. pricing.
Manufacturer images