Next Mini Convertible Spied on U.S. Roads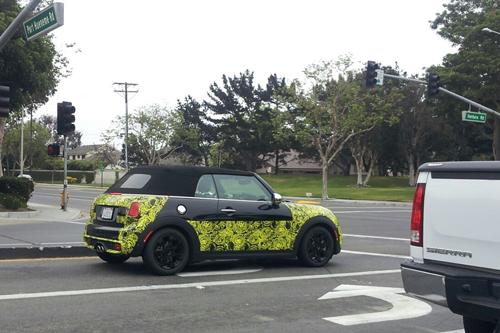 Mini's new Hardtop impressed us earlier this year when we took it through its paces in Puerto Rico. Now it seems the redesigned Mini Convertible is getting some work done on mainland roads ahead of an official debut later this year.
Related: 2014 Mini Cooper Hardtop First Drive, Photo Gallery
This photo of the next Convertible in camouflage — that's what those in the industry call all the swirly decals — was caught in Southern California by a Cars.com editor's family member. Not only is it a new Cooper, but by the look of the center-mounted dual exhaust this is the Cooper S version of the Mini Convertible.
We expect the droptop version of the new Mini to mirror the trim levels, options and performance specs of the redesigned Hardtop but are interested to see how the larger platform impacts cargo room and the folding top's operation.
Click on the image below for a larger version.
Cars.com photo by Pamela Hoffman