2015 Subaru Outback First Drive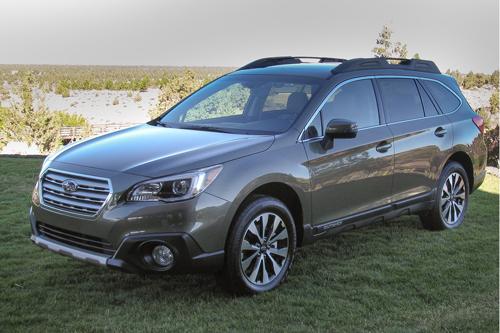 By Bill Jackson
The Subaru Outback has always straddled the line between SUV and wagon, owing to its off-road chops, high ground clearance and body style. I tested the refreshed-for-2015 Outback on- and off-road, and with the new model, Subaru plays to the Outback's usual strengths and refines some of its previously rough edges.
2015 Subaru Outback: First Look
The major changes are updated exterior styling, interior refinements, a new drivetrain and improved fuel economy. The Outback is available in 2.5i Standard, 2.5i Premium and 2.5i Limited trims with a 175-horespower, 2.5-liter four-cylinder engine, and as a 3.6R Limited that comes with a 256-hp, 3.6-liter six-cylinder engine.
Previously, there was a mix of transmissions — a manual, standard automatic transmission and a continuously variable automatic transmission — but for 2015, both engines pair with a CVT; all-wheel drive is again standard.

Driving
The four-cylinder offers modest power, but the CVT provides a quicker response than some of the eight- and nine-speed transmissions that are popping up all over the market. The responsiveness was nice, but it won't blow anybody away. It's adequate for passing at highway speeds as long as you have a second to make the pass.
However, you will hear a lot of noise from the engine, along with a pronounced whine from the transmission, especially when pushed. While cruising, however, the engine and transmission are otherwise unobtrusive; there's not a steady drone or whine that's sometimes common with four-cylinder/CVT combinations.
The six-cylinder engine is the star of the show, but it's not all about using that extra horsepower to go faster. True, the six-cylinder Outback makes passes on the highway easily and accelerates away from a stop sign with more purpose. But the biggest benefit is heard rather than felt; because the engine doesn't have to strain to move the Outback's weight, it's noticeably quieter. That helps the otherwise rugged Outback better compete with European luxury wagons in terms of interior noise and general refinement. The transmission whine that pops up in the four-cylinder versions is also more muted in the six-cylinder model.
For 2015, four-cylinder models get an estimated 25/33/28 mpg city/highway/combined compared to the previous four-cylinder CVT's 24/30/26 mpg estimate. Six-cylinder models are now rated at 20/27/22 mpg, up from 17/25/20 mpg when the car was equipped with a five-speed automatic.

Exterior Styling
The Outback's exterior changes are subtle but pay off in a big way. First — and to my eye, best — Subaru toned down the previous Outback's chunky, rugged body cladding. Where the previous generation always looked like a mish-mash — as if the car was made of Legos and the body and cladding were two different pieces that were clicked together at the factory — this version looks sleeker and more integrated. The change is most evident on Outbacks painted in lighter colors. It's a good look.
The 2015 Outback also gets the larger trapezoidal grille that other new Subaru cars wear, along with restyled headlights. The windshield's base has been moved forward 2 inches, and the side mirrors were moved down to the door from the A-pillars.
Overall, the car looks smoother, leaner and not as thrown together as the previous version. With its roof rails, the tall ride height and wagon body style, it still looks like a Subaru, but one where they took some extra time to tie all the styling elements together.

Interior Styling
The preceding Outback's cabin had a utilitarian feel, but Subaru dressed it up for this generation; it's more than competitive for the nonluxury class. There's new leather; two new larger multimedia screens (6.2 inches on 2.5i models and 7 inches on uplevel versions) and the center storage bin has been redesigned to hold tablets as large as an iPad. The door armrests and center armrest have thicker cushioning and offer a soft feel that makes longer drives easier on your elbows. The steering wheel also has a solid feel to it, and the dashboard is also padded to the touch.
The standard cloth seats feel comfortable and supportive. The upholstery has a nice texture to it, so I wouldn't find it necessary to get the leather just for appearance's or comfort's sake.
The new look and materials still err on the side of function over form, but all-in-all, the changes have made the Outback's cabin more comfortable.

Getting Bigger
Subaru also bumped up the Outback's interior space by a few inches, resulting in more slightly more passenger room and a bit more cargo space. There's 35.5 cubic feet behind the rear seats, up from 2014's 34.3. Fold the standard 60/40-split backseat down for 73.3 cubic feet, up from 71.3.
I'm about 6 feet 2 inches tall and I can say there's a nice amount of legroom in the back. (I sat back there with the driver's seat positioned where I'd have it and with the front seat run all the way back to its limit.) My knees were slightly elevated, but nowhere near as much as in many other vehicles on the market, so I think even I'd be comfortable on a longer trip.

Safety
Standard safety features include a backup camera, side curtain airbags that deploy when a rollover is imminent, and cabin and exterior lights that automatically turn on when the driver approaches the car.
Newly available features include a blind spot warning system, rear cross-traffic alert and Subaru's EyeSight system. EyeSight uses cameras to provide adaptive cruise control, precollision braking and lane departure warning.

Pricing, More Details
The 2015 Subaru Outback starts at $25,745, including destination. That's a jump from last year's model, but the 2015 offers a standard CVT and upgraded features. Click here for a trim level breakdown.
We'll have a deeper expert review of the Outback shortly, so check back for more details.
Manufacturer images; Cars.com photos by Bill Jackson