2015 Volvo XC60 Real-World Cargo Space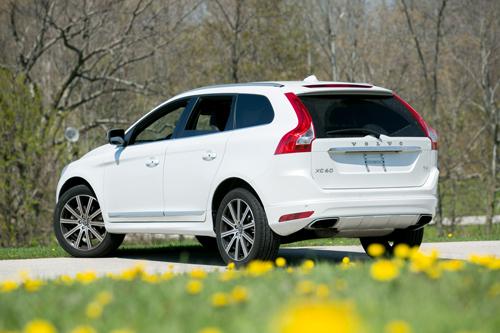 Volvo has progressively updated its XC60 compact luxury SUV over the past few years, adding some great touches like the T6's innovative turbocharged, supercharged and efficient engine and a well-done digital instrument cluster. What Volvo didn't need to change was the XC60's interior space — it's been plentiful and easy to use since the SUV's debut as a 2010 model.
The XC60's cargo space is competitive against luxury compact SUVs including the Mercedes-Benz GLK-Class, Acura RDX and BMW X3. It actually bests those with 30.8 cubic feet of cargo space behind the backseat compared to the 16.5 cubic feet, 26.1 cubic feet and 19.4 cubic feet of the others, respectively. Plus, the XC60 has a standard and versatile backseat that folds in a 40/20/40 split. There was more than ample room to fit our assortment of cargo items in the back without folding the seats, which you can see below.
Cars.com photos by Evan Sears