Ford Concept Makes Fusion As Light As a Fiesta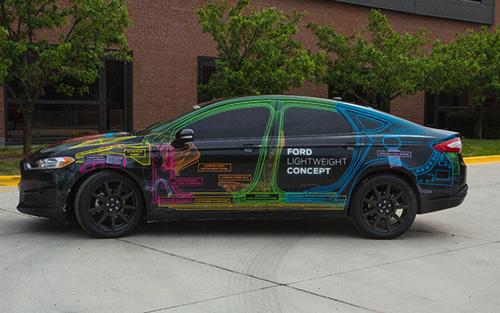 Starting earlier this year with the 2015 F-150 and continuing this week with the announcement of a new concept car, Ford is working to be a heavyweight in the realm of "light-weighting." The Ford Lightweight Concept follows in the footsteps of the production version of the F-150 pickup truck, which shed 700 pounds using high-strength steel and aluminum alloy. The concept, based on the 2013 Fusion midsize sedan, drops a quarter of the sedan's body weight to tip the scales at the same level as Ford's smallest car, the Fiesta, the automaker said Tuesday.
Everything You Need to Know About the 2015 Ford F-150
Ford said the concept "uses advanced materials to explore future weight-reduction solutions that could improve performance and fuel efficiency while reducing carbon dioxide emissions." The automaker said the vehicle uses many of the same lightweight materials found in today's mobile electronic devices, such as aluminum, chemically toughened glass and advanced lightweight plastics, as well as high-strength steel, magnesium and carbon fiber.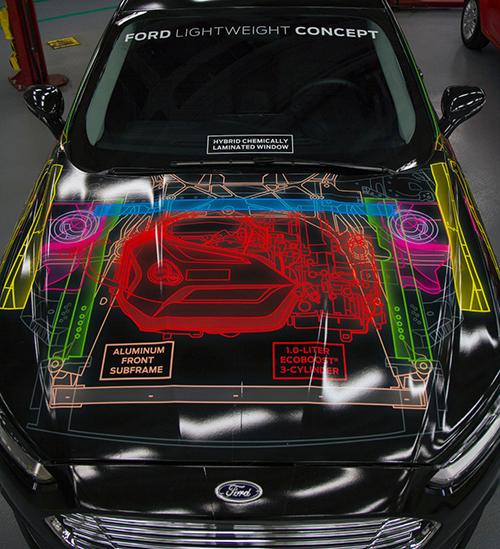 Engineers, Ford said, incorporated the weight-saving materials into the entire design of the car, including the powertrain, chassis, body, battery and interior features. The objective was to find a combination of lightweight materials that could be mass produced while preserving safety. The concept was developed in cooperation with the U.S. Department of Energy's Vehicle Technologies Program and Magna International subsidiary Cosma International.
Kumar Galhotra, Ford vice president of engineering, told USA Today that further innovations could include replacing heavy lead-acid batteries with something lighter. Six lightweight Fusions will be built, two each for corrosion, crash, and noise and vibration testing, the newspaper reported.
Manufacturer images