How to Safely Wear Your Seat Belt When Pregnant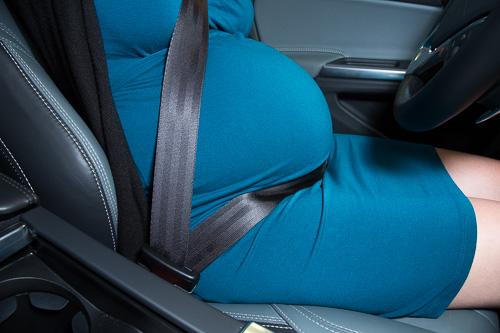 With many moms and dads on the Cars.com Editorial staff, we talk a lot about the importance of child-safety seats, but in reality, a baby takes its first car ride months before he or she is born. Before birth, a properly positioned seat belt is the best way to keep you and your baby safe on the road.
As a pregnant belly swells, so too does your growing discomfort when trying to squeeze behind the steering wheel (trust me, with twins on the way, I know), but that's no excuse for loosening your safety belt or removing it all together. According to the National Highway Traffic Safety Administration, car crashes are the largest single cause of death for pregnant women and the leading cause of fetal injury and mortality in the U.S. In fact, NHTSA estimates that 160 pregnant women are killed in crashes each year and more than 800 fetuses are killed when the mother survives.
Safety and medical agencies agree that it's safer for pregnant women to be in the passenger seat, away from the steering wheel, which could get pushed further into the driver's space in a crash. But if you have to drive, what's the best way to ensure you and your baby are belted safely, increasing your chance of surviving a crash? Here's my doctor's advice, and NHTSA's recommendations for how to stay safe behind the wheel.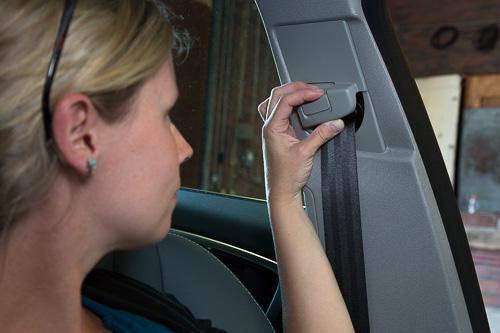 Step 1: Always wear both the lap and shoulder belt. Before buckling up, adjust the shoulder belt height to fit you comfortably.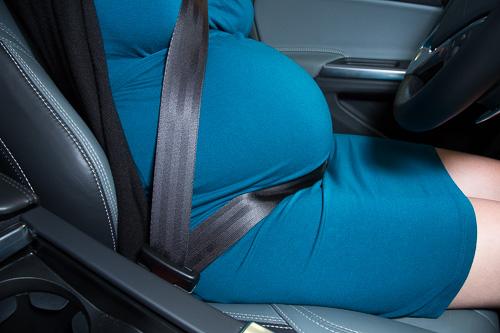 Step 2: Buckle the lap strap under your belly and over your hips. Never place the lap belt across or above your belly. This could damage the placenta, a leading cause of fetal death in car crashes.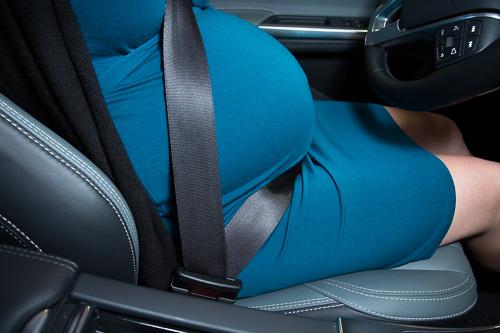 Step 3: Make sure the shoulder belt sits in the middle of your chest and routes off to the side of your belly. Never place the shoulder belt under your arm.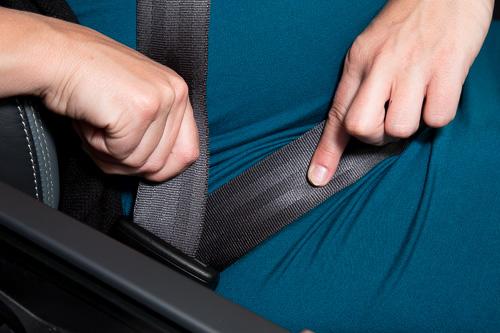 Step 4: Make sure the seat belt fits snugly and isn't twisted.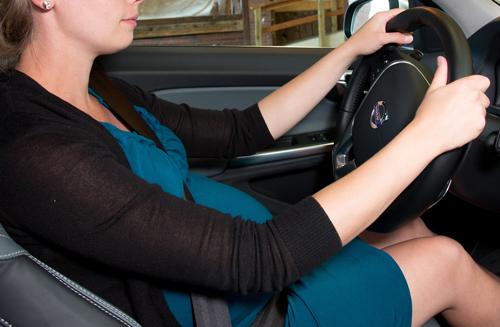 Step 5: Move your seat back as far as comfortable. NHTSA recommends keeping at least 10 inches between the center of your chest and the steering wheel. You may have to adjust this as you grow.
Unfortunately, we know very little about how else to prevent maternal and fetal injury in a crash because crash-test data is limited. Volvo developed a pregnant female crash-test dummy, but it's a virtual model (pictured below). The automaker uses the computer dummy to study how the virtual mother-to-be and her unborn baby are affected by the seat belt and airbag in simulated front-end crashes.
"The computer model makes it possible to study — in great detail — how the belt moves, the influence of belt and airbag on the uterus, placenta and fetus, and how the fetus moves in relation to the mother's body, among other things," the automaker said in a statement. Volvo says these studies are used when the automaker designs seat belts and other safety systems.
NHTSA performs crash tests on a variety of adult- and child-size dummies, but it doesn't have a pregnant crash-test dummy. To gather data, it uses research from the University of Michigan Transportation Research Institute's dummy: a small 30-week-pregnant female weighing roughly 130 pounds. The institute tests the dummy restrained and unrestrained in front-impact crashes at 35 mph. UMTRI says that approximately half of fetal losses in motor-vehicle crashes could be prevented if all pregnant women properly wore seat belts.
Will NHTSA create its own pregnant crash-test dummy? An April 2013 proposal to explore expanding the agency's New Car Assessment Program, which oversees crash tests, to include a pregnant dummy is promising, but there's no clear timeline for the addition.
"Advancements in pregnant occupant protection could save two lives for the cost of protecting one and would make a great addition to the family star rating," the agency said in a statement.
Until crash tests evolve, the best thing you can do is buckle up correctly, every drive, every ride.
Cars.com photos by Evan Sears; Volvo graphic