More Details on GM's Latest Ignition-Related Recall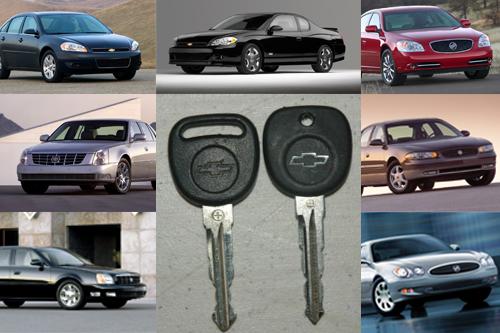 On June 16, GM issued its second major ignition-switch recall, which affects 3.16 million larger cars in the U.S. — the 2005-2009 Buick LaCrosse, 2006-2011 Lucerne and 2005 Regal; the 2000-2005 Cadillac DeVille and 2004-2011 DTS; and the 2006-2008 Chevrolet Monte Carlo, 2006-2013 Chevrolet Impala and 2014 Impala Limited (a carryover of the old Impala, not the redesigned sedan). An additional 200,000 of the same cars will be recalled outside the U.S. too.
GM Recalls Another 3 Million Vehicles
The recall sounds a lot like this year's earlier GM recall of 2.2 million small cars in the U.S. for faulty ignition switches, which centered mostly on the Chevrolet Cobalt, Saturn Ion and Pontiac G5 compacts. In both situations, a pothole or other disruption could bump the key out of the "run" position while the vehicle is moving, which could deactivate airbags and various electrical systems.
This recall is unique, however. For starters, it doesn't include a replacement of the ignition cylinder and switch, as the Cobalt and its peers require — just a new key. We chatted with GM recall spokesman Alan Adler to clarify some details. For answers to the original ignition-switch recall, read our earlier Q&A here.
Why won't GM replace the ignition switch in these cars too?
This is a different problem. The Cobalt and its peers had a faulty ignition switch, so a bump in the road could pull the key out of its "run" position if there was weight on the key chain. In this batch of cars, GM decided that a redesigned key would sufficiently reduce any leverage from a heavy key chain to rotate it out of the "run" position, Adler said. That eliminates the risk without having to swap out the ignition cylinder or switch, as the Cobalt and its peers require.

What's the difference between the keys?
Existing keys for the recalled cars have a wide, slotted hole that couples with your key chain. The new key will have a much smaller, circular hole that's just 4 millimeters by 6 millimeters. "What that will do is, ideally, [owners] put less junk on the key ring," Adler said. But if they don't, the new design still reduces the leverage for heavy key chains to pull the key out of position, he added.

"When you have a slot in there, you've got a lever, basically," he added. "If you've got a hole in there, you have less of a chance of that [rotation] happening."

GM has tested the new key at its Michigan proving grounds, and Adler said it's passed every test.

Can't I just go to my local hardware store and get a new key cut with a smaller hole?
That would seem like a viable solution, but it's unclear if the replacement keys have additional modifications your hardware store can't replicate. "We are very early in this recall, so some of the answers are not yet widely known," Adler told us. It's also unclear if any of these GM keys use any electronic chips, which complicates third-party replacements.

There are too many variables to know for sure, so we recommend following GM's advice: Keep your current key, but take it off the keychain and use it alone in the ignition. Then, when recall notices arrive, bring your car to a Buick, Cadillac, Chevrolet or GMC dealership for a factory replacement. We should add that since the style of key matters, it's best to stick with your dealer for any subsequent replacements of the new key.

When will I get a recall notice?
"We do expect to have keys relatively soon, within weeks," Adler told us. "I do not have a mailing date yet, and because of the volume [of cars], it may be an advisory letter first followed by a 'call to schedule an appointment' letter."
GM will mail letters to the address on each car's registration, so if you've moved without updating your registration — or your car is registered under a relative who lives elsewhere, like your parents — make sure to track it down. You should also contact your state's department of motor vehicles to update that registration.
How long will the whole campaign take?
"I don't know that we have an end date for it," Adler said. As of June 16, he said GM had fixed about 170,000 of the 2.2 million U.S. small cars in the original ignition recall, which the automaker announced in stages between Feb. 25 and April 9. But that required a full kit — including new keys, ignition cylinders and ignition switches — for each car. Two of the three pieces aren't necessary here, and Adler said there should be a "decent supply pretty much from the start."
How long will the recall appointment itself take? Will my dealer give me a free loaner vehicle?
Because GM is modifying your key, Adler said the appointment should take "minutes, not hours," and GM will not furnish loaner rentals like it's doing with the earlier ignition recall. Still, the volume of GM recalls means you'll "certainly want to call ahead and not just show up," he added. "We've put a lot of [recall] business on our dealers lately."
If I want to buy one of these cars used, does a key with the smaller hole mean the recall work was done?
Not necessarily. If the vehicle has the old key, it certainly means the recall hasn't been done. But the new key doesn't necessarily mean it has.
"If somebody happens to have one of the smaller-hole keys — I don't know if they got it, [but] what if they do?" Adler said. These are "older vehicles. Lots of things have happened."
Dealers can look up VINs and tell you if recall work has been completed, he added. By this August you should be able to do that on your own via the National Highway Traffic Safety Administration's website, www.safercar.gov.
Manufacturer images