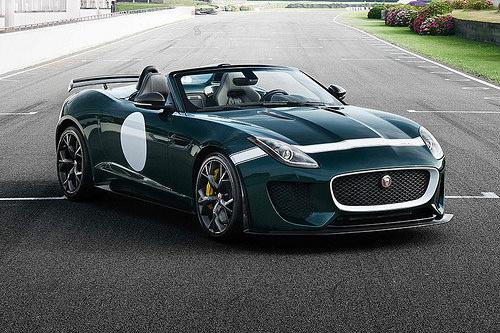 Jaguar has confirmed that it intends to build 250 examples of the 2013 F-Type Project 7 concept car for sale to the public, using its Jaguar Land Rover Special Operations team to handle the assembly of the custom two-seat roadster. Inspired by the 60th anniversary of the LeMans-winning Jaguar D-type race car, the F-Type Project 7 features handmade carbon- fiber aerodynamic aids and a unique suspension, as well as the most powerful engine Jaguar has ever put in a car: a 575-horsepower, supercharged 5.0-liter V-8 mated to an eight- speed automatic transmission. Jaguar says it will propel the Project 7 from zero to 60 mph in just 3.8 seconds with an electronically limited top speed of 186 mph, making it the fastest car Jaguar has ever produced.
Several high-performance features will be standard on the Project 7, including carbon- ceramic brakes, a torque vectoring system and race-inspired seats. The only roof will be a stowable fabric strip that stretches from the top of the windshield and accommodates the D-type-inspired fairing behind the driver's head. It will be fully road-legal, however, and even features a trunk that holds 7 cubic feet of luggage.
The first examples of the new Project 7 will be delivered to customers in mid-2015, and it will make its public debut at the 2014 Goodwood Festival of Speed in West Sussex, England on Thursday. Pricing has not yet been announced.
Check out the gallery below.
Manufacturer images