2014 Toyota 4Runner Real-World Cargo Space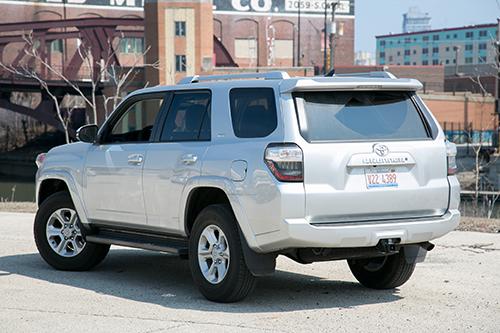 The off-road-ready 2014 Toyota 4Runner packs a fair amount of cargo room for an SUV geared toward rugged dirt duty. The five- or seven-occupant 4Runner's maximum 89.7 cubic feet of cargo space is actually a wee bit more than the family-focused eight-person 2014 Toyota Highlander's 83.7 cubic feet.
Related: 2014 Toyota 4Runner Expert Review
Though redesigned for 2014, the changes are mostly cosmetic and a number of the 4Runner's interesting cargo features carry over, including the available sliding rear cargo deck on five-person 4Runners that supports more than 400 pounds and slides out of the rear hatch area. The sliding cargo floor makes it easier to cope with the tall off-road-friendly ride height. See how well common items fit into the 4Runner's cargo area, below.
Cars.com photos by Evan Sears