2015 Cadillac ATS: What's Changed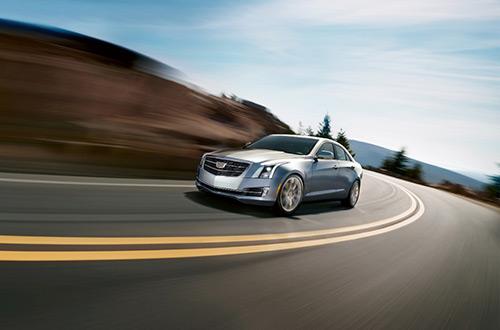 Most significant changes: New front-end styling, torque boost for the 2.0-liter turbocharged engine and a host of standard and available tech features
Price change: Starts at $34,210, including a $995 destination charge, a $220 increase
On sale: August
Which should you buy, 2014 or 2015? Aside from exterior-styling updates, most of the upgrades come with packages and on higher trim levels, but for the negligible price hike, why not stay current with that new wreathless Cadillac crest?
We've already told you all about the new-for-2015 coupe version of the Cadillac ATS, which debuted earlier this year at the 2014 North American International Auto Show in Detroit, along with the modern, wreathless redesign of GM's luxury brand's famous crest. GM has some minor updates for the 2015 sedan version: fresh front-end styling, as well as newly available communication, convenience and safety features, and a substantial torque boost on one of three powertrains. While the new coupe is set to go on sale in September starting at $38,990 (including a $995 destination charge), an August dealership date has been set for the 2015 version of the four-door, which will start at $34,210 with destination, a $220 increase over the outgoing model.
2015 Cadillac ATS Coupe: Up Close
The compact luxury sedan's available 2.0-liter turbocharged engine makes 272 horsepower and 295 pounds-feet of torque, the latter figure representing a 14 percent increase over the 2014 model. The other two engines include the standard 2.5-liter, good for 202 hp and 191 pounds-feet of torque, and the 3.6-liter V-6 rated at 321 hp and 275 pounds-feet of torque. All engines are mated to a six-speed automatic transmission; the 2.0-liter is also available with a six-speed manual. Rear-wheel drive is standard and all-wheel drive is available on all powertrains except the 2.5-liter.
Two new colors are available for the sedan, Crystal White Tricoat and Dark Adriatic Blue Metallic, as are new interior color and trim combinations including semi-aniline leather and sueded microfiber accents.
The ATS' enhanced communications, convenience and safety tech features include:
DockSpot wireless phone-phone charging, available with the Cadillac User Experience multimedia system
Text message alerts and teen-driver features integrated with CUE
OnStar with the 4G LTE data network and a built-in Wi-Fi hotspot
EZ Key passive entry
Power tilt/telescoping steering wheel on Premium models
Automatic seat belt tightening and lane change alert with the Driver Assist Package
Lane keep assist with the Driver Awareness Package
Manufacturer image