2015 Cadillac Escalade Real-World Mileage
The driverless car isn't a consumer reality yet, so if you need an intelligent, spacious and powerful road tripper, the redesigned 2015 Cadillac Escalade may well fit the bill. It's not perfect, but it has enough features to help drivers cover long distances, such as from Chicago to Orlando, Fla., and back, in relaxed comfort.
Related: No Joke: We Drove a $73,000 Chevrolet Suburban
Before tackling how this full-size luxury SUV handles the above — which it should at a tested price of $90,985 — here is a look at the mileage from our nearly 3,000-mile journey.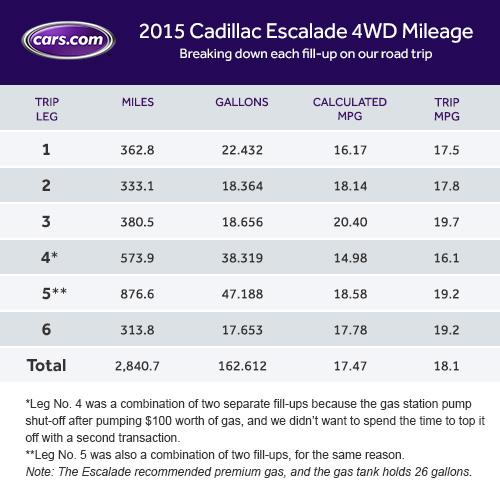 EPA-estimated mileage for the 2015 Escalade with four-wheel drive like our tester is 14/21/16 mpg city/highway/combined. That's up from 13/18/15 mpg in the outgoing 2014 model.
Much of the mileage accumulated was at highway speeds, and the fuel-economy numbers didn't get close to the EPA's highway estimates. However, on the trip to Florida there were four adults and their luggage filling the Escalade and on certain legs we added a fifth adult and luggage, all while the air conditioning was in heavy use ... especially in Orlando.
Leg No. 3 was more efficient than the others because it was the leg coming down from Chattanooga, Tenn., to Atlanta, dropping from the Appalachian Mountains down into Georgia plains. Leg No. 4 consisted of a lot of city driving in Tampa, Fla., and Orlando, which led to the lower fuel-economy figures.
The total cost to fuel the round trip was $657.81 with the least expensive premium gas costing $3.719 a gallon in the Chattanooga area, and most expensive gas $4.299 a gallon in Chicago's suburbs.
There was a lot to take in during roughly 40 hours of seat time in an all-new vehicle. Here are our early thoughts on this new Escalade.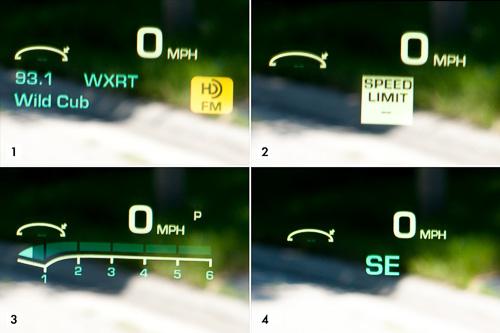 What We Liked
Automated systems: From the adaptive cruise control to the rain-sensing wipers, the Escalade offered a lot of help for making this long trip easier. The adaptive cruise control did its job well, though it would occasionally brake hard when it came upon a trailer or some other object with a small profile. Acceleration sometimes lagged when I moved into a faster lane, waiting for the system to acknowledge that there was nothing in front of us anymore. Still, it saved my legs a lot of effort over a week's time. Favorite automation, though? The auto running boards that extend when you open any door. For my wife, who is on the shorter side, they were a big win.
The engine: The Escalade is as fast off a dead stop as you would imagine, pulling along a fairly hefty and long SUV not only into traffic, but allowing it to jump ahead. It's even more impressive in how efficient it is; you may think those mileage numbers aren't great, but for a vehicle this size and able to carry so many people, those numbers are really good. Shifts are smooth, both up and down, and the brakes inspire nothing but confidence.
The ride: This is one quiet cruiser. Except for the very worst roads (and I'm looking at you, Indiana!), the Escalade is comfortable over all types of roads and surfaces. It absorbs bumps big and small with aplomb. It's near-silent as well, with no droning, no high-pitched wheel noise, no engine grunting. Very pleasant.
The head-up display (above): The best version of this that I've encountered. The display has a set of three controls that allow the driver to choose what he wants to see in it: tachometer, current speed limit (when known), cruise control set speed and current speed, and next maneuver for the navigation system. There are also controls to move the display up or down to reflect the driver's height, and a brightness control that helps make the display easy to see in sunlight or pitch black. Very effective and very helpful.
The sound system: To help pass the time, we played a couple of movies on the trip, including the Blu-ray version of "Skyfall," the latest James Bond flick. While I couldn't see it from the driver's seat, I sure could feel it. It boomed with virtually no distortion, crisp voices, and clear sound effects. I'd play more movies just to listen to them on that system.
The art-deco looks: While at first, it seemed awfully boxy, over time the sleek look of the front won us over and reminded us of a train engine from the 1930s. Of course, beauty is in the eye of the beholder, but the combination that sleek styling and a beautifully appointed interior made it a winner for us.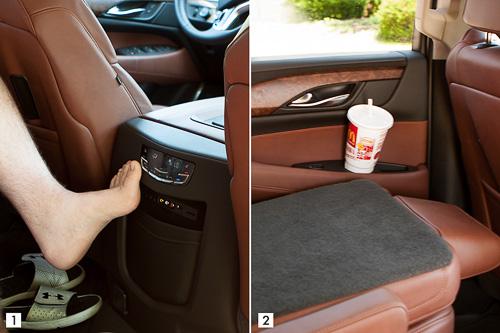 What We Didn't
Cadillac User Experience system: The entertainment/nav system in the Escalade suffers from many of the same problems that plague MyFord Touch and other touch-sensitive systems. There are lags when you type addresses in; there are times when the nav system simply doesn't recognize the address you type in (we had to use Google Maps on my iPhone way too many times), and there are times when it takes repeated stabs at the temp controls to finally get to the temp you want. Frankly, it shouldn't take two clicks to get to the air conditioning on/off button, as it does with CUE. Still, as familiar as the issues were, they were a constant frustration.
Rear climate controls (1): Having a touch-screen in the second row is both unusual and cool, but when your passengers fall asleep and stretch out their legs, bad things can happen, such as when one of my sons turned up the heat to 80 degrees back there with only his sock-covered foot. Another turned on the heated seats, which were not really needed in Florida. In July.
Second-row cupholders (2): While it is clear that in this country fewer people are drinking sodas, that doesn't explain why the only cupholder on either door in the second row can't accommodate a large McDonald's soda cup, let alone a 20-ounce soda bottle.
Cars.com photos by Patrick Olsen