2015 Lexus RX 350, RX 450h: What's Changed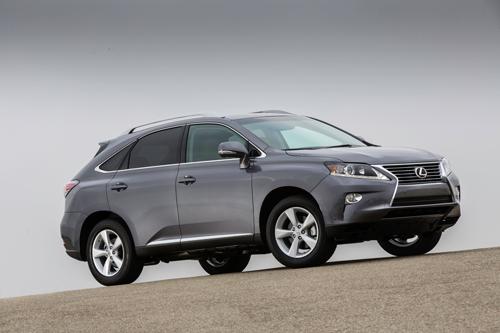 Most significant changes: Display audio system, 7-inch screen, backup camera now standard
Price change: RX 350 and 450h $1,035 higher, and the RX 350 F Sport $1,085 higher; effective with September 2014 production those prices will increase $175
On sale: Since April
Which you should buy, 2014 or 2015? 2015
The RX crossover SUV is the best-selling Lexus model, so there was little need to make major changes for 2015. Besides the standard backup camera and 7-inch display screen, other changes are minor. LED fog lamps are included with optional high-intensity-discharge headlights, the turn signals add a three-flash lane-change feature and the Enform app suite adds Slacker radio.
The lineup includes front- and all-wheel-drive versions of the RX 350 with a gas V-6 and the RX 450h V-6 hybrid, plus the front-drive F Sport model that adds a firmer suspension, more aggressive exterior trim and an eight-speed automatic transmission. The F Sport is a decent attempt at adding some zest to the RX line, but most buyers are more interested in the comfort and convenience features of the other models.
The RX offers an alluring blend of luxury, refined road manners and room, plus a commendable reliability record, making it a popular choice among five-seat luxury crossovers. Leather upholstery still isn't standard, and most RX models on dealer lots will be packed with other expensive options, so expect to find that a majority of price stickers will be north of $45,000 and many will be more than $50,000.
The 2015s have been on sale for a few months, so 2014 models are getting hard to find. In addition, most 2014s probably have the display audio system and backup camera, which was an $860 option and accounts for most of the price increase on the 2015s. The best reason to buy a 2014 would be if a dealer offers an exceptionally low price.
Manufacturer image