2015 Mazda CX-5 Real-World Cargo Space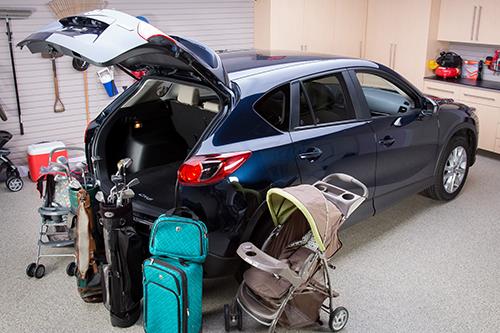 Mazda's CX-5 has the distinction of being a compact SUV for driving enthusiasts with excellent fuel economy and great cargo room - not your typical compact crossover formula. Making the cargo area everyday friendly are folding seats that release in two locations. There is a set of levers in the cargo area that release the folding backseat so you don't have to walk around to the rear doors to fold the seats and then walk back to the cargo area. There are also seat releases on the backseat itself.
2014 Jeep Cherokee Versus 2014 Mazda CX-5
A 40/20/40-split folding backseat that's standard in Touring and Grand Touring trims offers increased versatility over the Sport's 60/40-split seat, and even the middle section can be folded/released using the cargo area lever. The space-efficient CX-5's cargo area does many things well, though the backseat doesn't slide or recline like in the Jeep Cherokee or Chevrolet Equinox. See how well common items fit in the CX-5, below.
Research the 2015 Mazda CX-5
Cars.com photos by Evan Sears