How Would The Civic Si Have Fared Against Cheap Speed Challengers?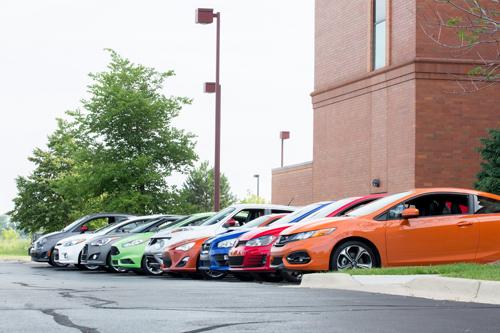 The $30,000 Cheap Speed Challenge was supposed to include the new 2014 Honda Civic Si, but its sad fate was sealed when a Chicago pothole claimed its front passenger-side tire on the evening before testing at a drag strip.
What's the Best Cheap Speed Car for $30,000?
You might think a new tire would be easy enough to locate, but that wasn't the case. It took the recommended dealership two days to get it fixed. The car arrived at the Autobahn Country Club's racetrack in Joliet, Ill., just as we concluded our day of road-course tests there. If it had been an hour or two earlier, we likely would have included it in the road-course run and taken it back to the Byron, Ill., drag strip for another round of tests.
We still wanted to evaluate the Civic Si simply because it was available and put it through the same final tests in the expert round-robin, where judges drive the cars back-to-back over the same course. Here's what the judges said:
In terms of performance, in its limited time with us, there were highs and lows.
"The handling/dynamics seem to be as good as any front-driver in the test, at least on roads, though there's still more body roll than I'd expect, said Cars.com executive editor Joe Wiesenfelder. Cars.com road-test editor Joe Bruzek didn't give it as much of a pass in terms of handling. Its "clumsy handling was one of the weakest of the group on our short driving route. The body motion is also hardly as well controlled as the others in the test."
The light clutch and precise shifter drew near-universal praise, however. "Definitely a better gearbox than the Ford. The shifter is like a bolt-action rifle," said our real-world tester, Joe Weiss.
However, the high-revving, naturally aspirated V-Tec engine got mixed results. "I never liked having to rev it up so high to tap into the power, and while this is a sizable engine in Civic Si history, it remains torque-shy," Wiesenfelder said. It also turned off Weiss to such an extreme that he was glad he drove it so he'd never have to consider one again. But Bruzek was a fan: "It has a throttle response the others only wish they could have."
While the interior itself was generally liked for its spaciousness and quality, there was one thing that everyone had an issue with — the multimedia system. Get this many automotive journalists together and they'll all rail on touch-sensitive systems — even if it was just used on the volume slider.
"Capacitive (touch-operated) stereo volume control works as wretchedly as the wipers on the 1958 Triumph TR-3 I drove in college," said USA Today's Jim Healey. "No volume or tuning knobs is a step backward," agreed Cars.com consumer affairs editor Kelsey Mays. However, Cars.com managing editor David Thomas did give some praise: "The volume slider ruins an otherwise stellar multimedia system."
In the end, most of our testers thought the Si stood well on its own merits — especially its low sticker price and oodles of content — but likely wouldn't have escaped group's midpack.
"The Civic Si is one of the segment's originators and a big reason why this comparison is happening 30 years later," Bruzek explained. "It's too bad the Civic Si is only half of the performance package it needs to be."
Cars.com photos by Evan Sears