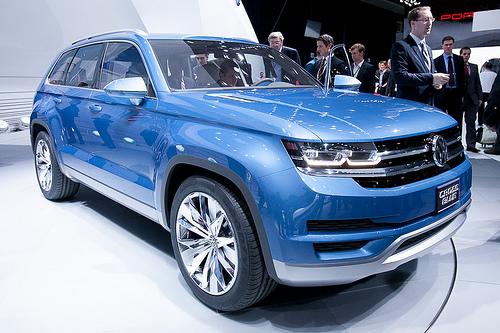 Today Volkswagen officials announced a new midsize SUV would be built at its Chattanooga, Tenn., plant, where the automaker currently produces the Passat sedan. While officials call the new vehicle a "midsize SUV," it will be based on the CrossBlue concept we first saw at the 2013 Detroit auto show; most would consider the concept a three-row crossover. The company did confirm it would seat seven.
Related: Volkswagen CrossBlue Concept Photo Gallery
Production of the new SUV won't begin until the end of 2016, so we wouldn't expect to see it on sale until early 2017.
The announcement signals an increased investment by VW in the U.S. of not only an additional $900 million into the facilities but also 2,000 new jobs as well. The company also announced there will be a new research center in Chattanooga to ensure new products meet the needs of U.S. car shoppers.
Cars.com photo by Evan Sears