Small Spike Breaks 33-Day Downward Trend in Gas Prices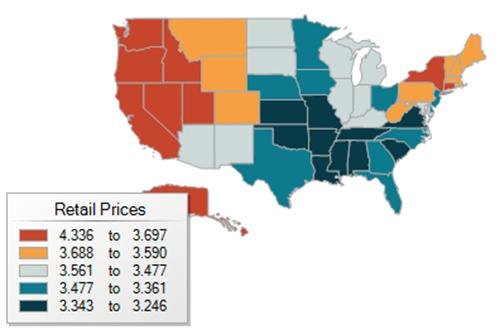 By Rick Popely
Gas prices ticked up a fraction of a penny Thursday, ending a 33-day streak of declines at the pump, but the news on the fuel front for motorists was otherwise positive during the month of July. AAA said the national average for a gallon of regular unleaded fell 16 cents during the month to $3.52 on Thursday, the largest July decline in six years. Motorists are now paying the lowest prices for gas since mid-March. Moreover, domestic refineries processed a record amount of crude oil during July, averaging 16.5 million barrels a day, and the boost to the gas supply helped push down pump prices at a time of year when they usually go up.
Related: Gas Prices Approach Month of Daily Decreases
"Falling gas prices are nearly the opposite to what we usually see this time of year," AAA spokesman Avery Ash said in a statement. "Refineries are running at full tilt, and there is more than enough gasoline in the market, which has helped bring down prices despite multiple overseas conflicts."
A year ago, the average price for a gallon of regular unleaded was $3.63, 11 cents higher than now, according to the AAA Daily Fuel Gauge Report. The $3.84 average price for diesel fuel is 4 cents lower than a year ago. The 16-cent monthly decline for regular unleaded was in marked contrast to the three previous Julys, when prices increased by an average of 16 cents per gallon.
AAA said gas prices are likely to stay below last year's levels during August barring disruptive events, such as hurricanes, which frequently occur this time of year. "Gas prices may cost less than in recent years this August as long as refinery production remains strong and oil costs do not rise due to unexpected issues," Ash said. "The biggest threat to continued falling prices would be a major hurricane striking the U.S. Gulf Coast. Prices also could rise or remain flat if refineries cut back on production or if there are any major refinery outages."
The lowest gas prices on a statewide basis were in South Carolina, where the average cost of a gallon of regular unleaded was $3.24, followed by Alabama at $3.26.; Tennessee, at $3.29; and Mississippi, Missouri and Oklahoma, at $3.30. The most expensive gas was in Hawaii, where the state average was $4.34 a gallon. Alaska was next highest at $4.13 a gallon, followed by California, $3.98; and Oregon and Washington, $3.92. Prices in California have dropped 15 cents during the past three weeks to bring the statewide average below $4 for the first time in four months.
AAA graphic