Small Trunks in Midsize Hybrid Sedans Limit Usefulness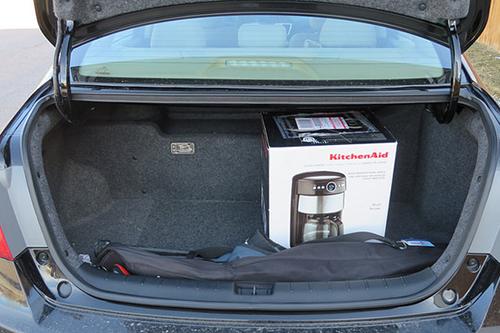 Family-friendly hybrids are still more elusive than you'd think. My test of the 2014 Honda Accord Hybrid proved that hybrid midsize sedans can be a great option for small families that don't haul a lot of stuff in the car's trunk. Alternatively, they also merit careful consideration if those families carry around a lot of gear.
2014 Honda Accord Hybrid Review
In the Accord Hybrid, as in its competitors, the hybrid system's batteries take up some quality trunk space. But how does its cargo space compare to other Accord models? And what about its competitors?
Take a look at the cargo numbers below. The Toyota Camry Hybrid has the most cargo space out of the hybrids listed at 13.1 cubic feet. However, don't assume that the gas-powered model with the largest trunk will have the largest trunk as a hybrid.
The Hyundai Sonata has the most cargo volume in its gas-powered sedan at 16.4 cubic feet, but only 12.1 in its hybrid iteration. Kia's Optima Hybrid has the least space at 10.8, but the largest disparity between its regular sedan and the hybrid sedan.
Of course, the hybrid sedans' trunks look downright roomy when compared to the Accord Plug-In's 8.6-cubic-foot trunk and that of the Fusion Energi, measuring 8.2 cubic feet.
If you're in the market for a hybrid sedan, it would be prudent for you to take that hockey stick/javelin/bag of football gear/double stroller with you on your test drive to check on how, or if, it'll fit in the trunk.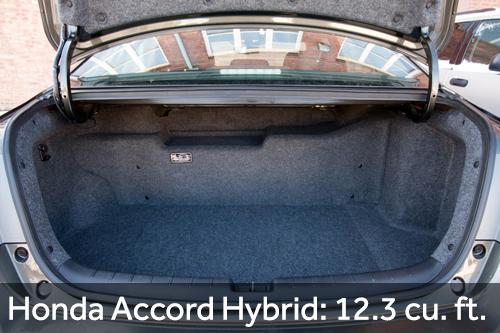 Honda Accord: 15.5 cubic feet
Honda Accord Hybrid: 12.3 cubic feet, 3.2 cubic foot difference from gas-powered sibling
Honda Accord Plug-In: 8.6 cubic feet, 6.9 cubic foot difference from gas-powered sibling
Ford Fusion: 16.0 cubic feet
Ford Fusion Hybrid: 12.0 cubic feet, 4.0 cubic foot difference from gas-powered sibling
Ford Fusion Energi: 8.2 cubic feet, 7.8 cubic foot difference from gas-powered sibling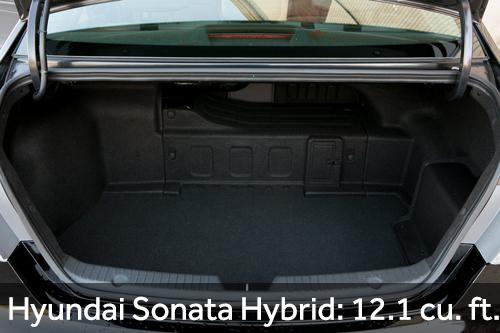 Hyundai Sonata: 16.4 cubic feet
Hyundai Sonata Hybrid: 12.1 cubic feet, 4.3 cubic foot difference from gas-powered sibling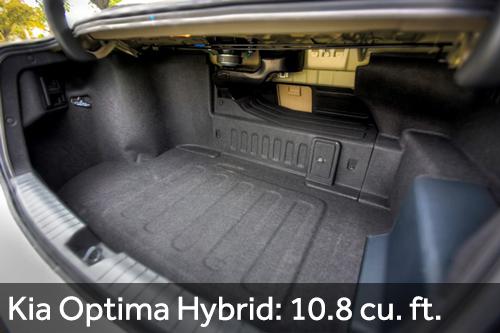 Kia Optima: 15.4 cubic feet
Kia Optima Hybrid: 10.8 cubic feet, 4.6 cubic foot difference from gas-powered sibling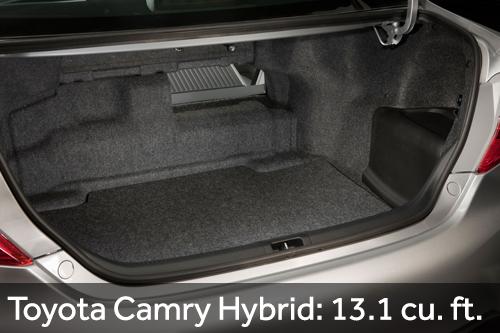 Toyota Camry: 15.4 cubic feet
Toyota Camry Hybrid: 13.1 cubic feet, 2.3 cubic foot difference from gas-powered sibling
Cars.com photos by Evan Sears and Sara Lacey; manufacturer images