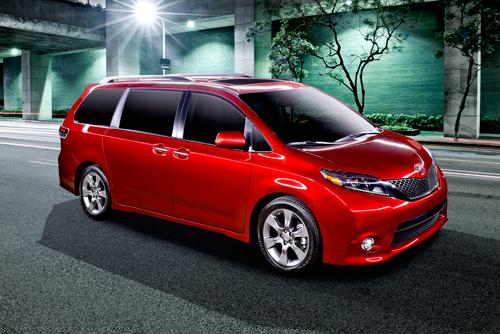 Toyota says the Sienna boasts a number of updates for 2015, including a more upscale interior and improved handling thanks to new suspension tuning. We'll see if that's enough for the minivan to get its swagger back, as sales are flat through the first six months of 2014 in a segment that's up 6.9 percent.
Related: 2014 Toyota Sienna: Car Seat Check
Toyota redesigned the Sienna's grille, and the headlights now incorporate available LED daytime running lamps, but the overall look is similar to the minivan's 2011-14 model years. The automaker promises more soft-touch materials inside — a good thing, as the current generation's middling cabin helped earn it a last-place finish during our 2011 minivan comparison. The updated Sienna gets Toyota's Driver Easy Speak system, which is also available in the automaker's redesigned Highlander SUV. It amplifies the driver's voice through a microphone up front to the third-row speakers so parents don't have to shout to anyone in the peanut gallery.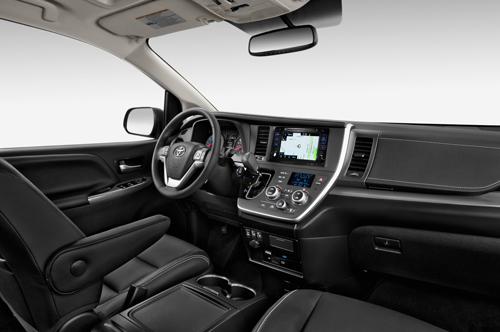 Inside, the Sienna incorporates a redesigned steering wheel and center controls, as well as a panel atop the instruments with upscale stitching. Second-row seats still offer extending leg rests. Entertainment options include a dual-view rear entertainment system that plays Blu-ray discs. Like before, leather seats are optional. Up front, redesigned gauges incorporate an available 4.2-inch instrument display with turn-by-turn navigation directions. A touch-sensitive 7-inch center screen has configurable menu items and smartphone/tablet-like swiping functionality.
On the safety front, the Sienna has eight standard airbags plus a standard backup camera. The automaker also says its improved the access to Latch anchors for child-safety seats.
It's unclear when the minivan goes on sale or what's under the hood, but it's a good bet Toyota will carry over the 2011-14 Sienna's workhorse 3.5-liter V-6.
Manufacturer images