2014 Land Rover Range Rover Sport: Car Seat Check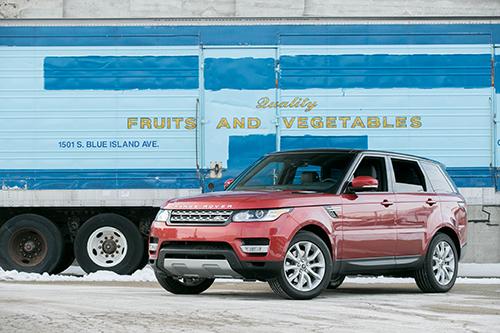 The 2014 Land Rover Range Rover Sport gained the Evoque's signature looks in its 2014 redesign. It also gained an optional third row — creating seating for seven — that some families might find useful for smaller kids. Our test car had only two rows with seating for five.
We managed to fit all three of our child-safety seats — booster, rear-facing infant seat and convertible — in the Range Rover Sport's backseat, but it failed to meet our criteria for an acceptable fit: A child's hand must be able to fit between the booster seat and the next car seat to buckle up. However, in the Range Rover Sport the car seats were jammed together so tightly that even the smallest of hands couldn't fit. However, a different configuration of car seats — two boosters and an infant seat, for example — might work. Parents of three who are interested in this car should bring their children's car seats along to a visit to the dealership.
How many car seats fit in the second row? Two
What We Like
The lower Latch anchors are easy to find and use, despite sitting an inch into the seat bight, where the back and bottom seat cushions meet.
The forward-facing convertible fit well into the Range Rover Sport.
What We Don't
The three tether anchors sit just below the cargo area's floor on the backseat's seatbacks. This location could lead a lot of parents to either forget to use the tether anchor with a forward-facing convertible or connect the tether to a cargo hook or something else that's easier to find in the cargo area.
We had to move the front passenger seat forward to accommodate the rear-facing infant and convertible seats behind it. Our tester still had enough legroom, though.
Large seat bolsters on both the sides and bottom of the seating area made it difficult to get our high-back booster seat to fit upright; it angled slightly. The seat belt buckle is on a stable base, but it sits low in the seat cushion. Younger kids may have difficulty using it.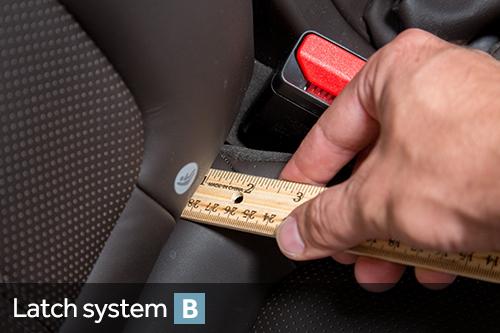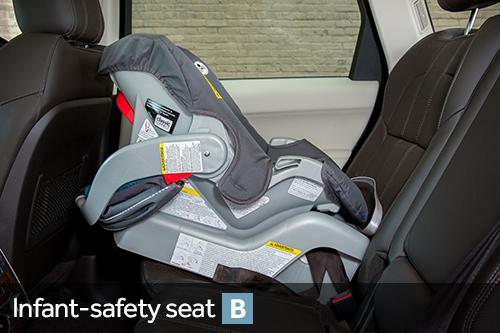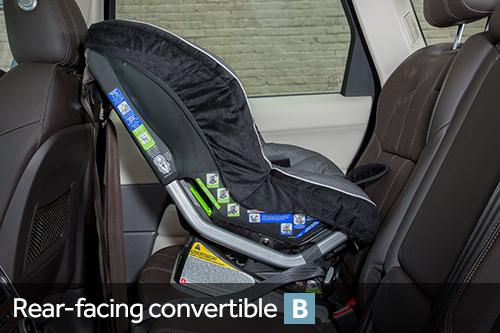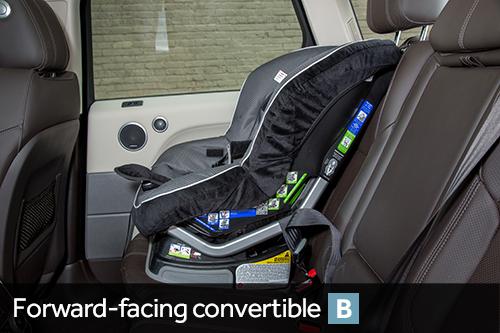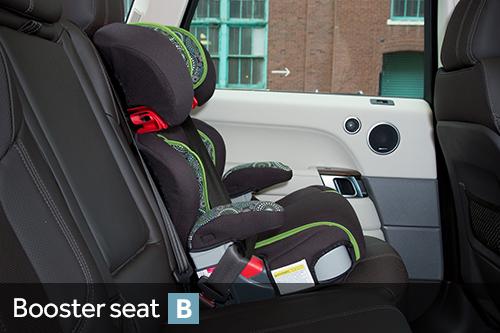 Grading Scale
A: Plenty of room for the car seat and the child; doesn't impact driver or front-passenger legroom. Easy to find and connect to Latch and tether anchors. No fit issues involving head restraint or seat contouring. Easy access to the third row.
B: Plenty of room. One fit or connection issue. Some problems accessing third row when available.
C: Marginal room. Two fit or connection issues. Difficult to access third row when available.
D: Insufficient room. Two or more fit or connection issues.
F: Does not fit or is unsafe.
About Cars.com's Car Seat Checks
Editors Jennifer Geiger, Jennifer Newman and Matt Schmitz are certified child safety seat installation technicians.
For the Car Seat Check, we use a Graco SnugRide Classic Connect 30 infant-safety seat, a Britax Marathon convertible seat and Graco TurboBooster seat. The front seats are adjusted for a 6-foot driver and a 5-foot-8 passenger. The three child seats are installed in the second row. The booster seat sits behind the driver's seat, and the infant and convertible seats are installed behind the front passenger seat.
We also install the forward-facing convertible in the second row's middle seat with the booster and infant seat in the outboard seats to see if three car seats will fit; a child sitting in the booster seat must be able to reach the seat belt buckle. If there's a third row, we install the booster seat and a forward-facing convertible. To learn more about how we conduct our Car Seat Checks, go here.
Parents should also remember that they can use the Latch system or a seat belt to install a car seat, and that Latch anchors have a weight limit of 65 pounds, including the weight of the child and the weight of the seat itself.
Cars.com photos by Evan Sears