2015 Acura TLX: First Drive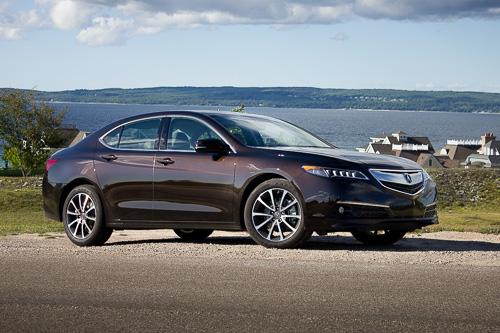 For years the TL sedan was Acura's bread-and-butter sedan. It was a strong seller until a radical redesign in 2009. The brand has been trying to recover ever since and hopes an all-new version with an all-new name will return the brand to luxury-sedan success.
Related: 2015 Acura TLX: First Look
The TLX not only replaces the TL, but also the smaller TSX sedan — which was less controversial but didn't fit properly in the brand's lineup, which also now includes the even smaller ILX.
After spending a day driving the TLX in northern Michigan at an Acura event, the TLX might indeed cover all those bases and runs gamut with an entry-level four-cylinder to a fully loaded all-wheel-drive V-6.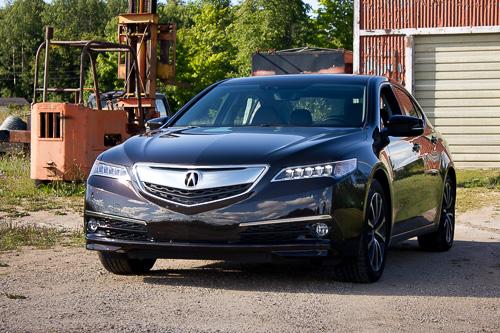 The previous TL placed a respectable third in Cars.com's $46,000 Sports Sedan Challenge out of six luxury sedans. What we recorded as the TL's weakest areas have mostly been addressed in the TLX, like a hefty curb weight, the compromised cargo area of the Super-Handling All-Wheel-Drive (SH-AWD) trim level and a dated multimedia system. At the same time, Acura amplifies the outgoing TL's strongest characteristics with a more refined ride quality while the beastly handling SH-AWD V-6 is as agile as ever.
How It Drives
Perhaps most intriguing is the feisty, new direct-injected 206-horsepower, 2.4-liter four-cylinder engine paired with a new eight-speed dual-clutch automatic transmission included in the entry-level $31,890 TLX (all prices include destination). At 243 pounds lighter than the previous-generation front-wheel-drive TL V-6, the new four-cylinder doesn't strain pulling the TLX and does so with an exciting vigor when those revs are above 5,000 rpm. The audible i-VTEC changes the engine's tone into a racier experience. Even outside of full throttle there's surprising amounts of pulling power in the middle of the rev range for a naturally aspirated four-cylinder.
The eight-speed dual-clutch automatic transmission is an important piece of the puzzle, smartly keeping the four-cylinder in its sweet spot so there's no waiting for power after a gear change. The expected crisp and fast shifts of a dual-clutch transmission don't come at the sacrifice of routine driving, as happens with many dual-clutch transmissions, thanks to the use of a traditional torque converter to provide a smooth start from a stop. The end result is a car TLX's chief engineer Mat Hargett says is 1.5 seconds faster at zero to 60 mph than the outgoing TSX four-cylinder. Combine that performance with EPA ratings of 24/35/28 mpg city/highway/combined — identical to the most-efficient non-hybrid ILX — and it's an impressive combo.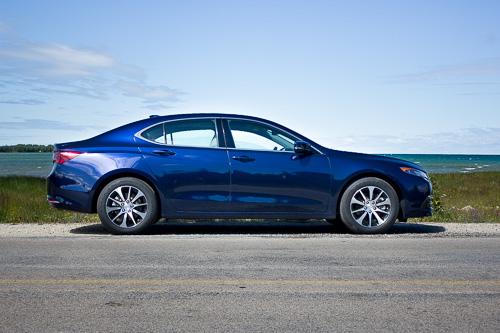 Driving enthusiasts looking for a balanced handling machine might actually be inclined to lean toward the four-cylinder over the other front-wheel-drive option with the 290-hp, 3.5-liter V-6 (also directed-injected). The V-6, starting at $36,115, is a potent engine but front-wheel-drive models exhibit undesirable understeer when driving aggressively on twisty roads compared to the four-cylinder.
All TLX trims have selectable driving modes of Econ, Normal, Sport and Sport+, which vary power steering effort, throttle and transmission responsiveness, plus Acura's all-wheel steering system (front-wheel drive only) that increases low-speed agility and high-speed stability.
The V-6 comes in two flavors, front- or all-wheel drive, both of which use cylinder deactivation to achieve EPA-rated fuel economy of 25 mpg combined — 21/34/25 mpg for front-wheel drive and 21/31/25 for all-wheel drive. Six-cylinder TLXs use a conventional nine-speed automatic transmission — one of only a handful on the market — which works fine enough and is significantly lighter than the outgoing six-speed automatic, but doesn't have the crispness of the four-cylinder's eight-speed dual-clutch automatic. Did I mention how much I like that eight-speed dual-clutch?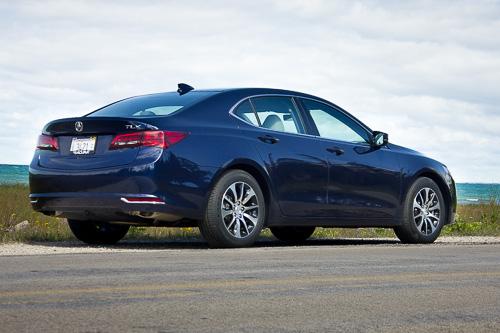 Acura uses a next-generation torque vectoring Super-Handling All-Wheel Drive in the TLX SH-AWD with big results. The TL's SH-AWD has always rotated the car around a corner with precision, and now the system does so in the TLX with even more aptitude and agility than before as the TLX SH-AWD digs and digs into a corner. The more compact all-wheel drive doesn't intrude into trunk space anymore and allows the backseat to fold for increased cargo capacity; the TL's SH-AWD had a smaller trunk and no folding backseat.
The car excels in comfort too with an extremely quiet interior, spacious front seats and smooth ride quality. The TLX manages to ride docilely on rough roads but it's rewarding when those roads curve even without the use of an electronically adjustable suspension. The roughest pavement and torn-up roads couldn't upset the TLX's refined interior experience.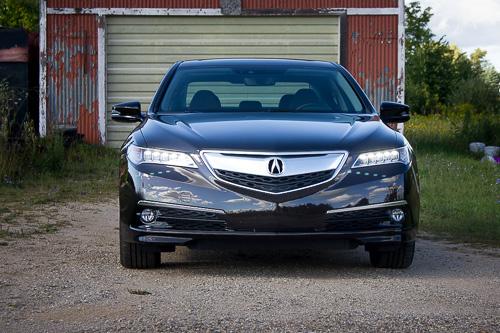 Exterior
There really aren't many significant styling differences between a base TLX 2.5L and loaded TLX 3.5L SH-AWD. Of course, beauty is in the eye of the beholder, styling is subjective, yadda yadda yadda. One thing's for sure, the TLX is better proportioned than the outgoing TL. Is it ground breaking? Not really, but at least it's not awkward anymore.
I'd like to see more playful wheel and exterior color options bring out the TLX's beautifully sculpted rear and great profile curves, which are hard to find in the current color palette. Let's see a bright blue or striking crimson exterior paired with more daring wheel options as well as more visual separation between the base and TLX SH-AWD models. The TLX's driving experience is done very well, but a little more flavor to turn heads wouldn't hurt.
Interior
On the inside, the TLX's dual-screen multimedia system hosts numerous connectivity features, but is a bit overwhelming at first to navigate with the split usability of a touch-screen and a center control knob — most luxury cars use one or the other. The interface is a considerably simplified visual experience, however, compared to the button-heavy spaceship command center of the previous TL.
TLX SH-AWD models are a little pricier for 2015 as they now all include the Technology Package as part of the $42,345 price. Optional on the other models, the tech package includes navigation, a premium sound system, leather sport seats (leatherette is standard), lane departure warning, lane keep assist, forward collision warning, cross-traffic alert and more. A 2.4L with Technology Package is $35,920, while on the 3.5L is $40,145.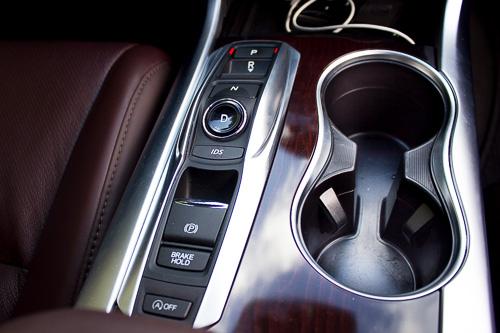 Standard multimedia features include the Siri Eyes Free interface, satellite radio, Pandora and Aha compatibility, USB input with iPod integration, Bluetooth streaming audio and more. Those sound like pretty standard features, but good luck finding a USB port in an entry-level Audi A4 or satellite radio in a bare-bones BMW 3 Series.
Overall, the interior is ... well very Acura-like. There are nice materials with a tech-savvy style, though nothing oozes style or opulence like the new 2015 Mercedes-Benz C-Class. But the TLX is trying to bridge the gap between two cars, with prices ranging from $31,890 for a base 2.4L to $45,595 for a loaded SH-AWD.
Cars.com photos by Joe Bruzek