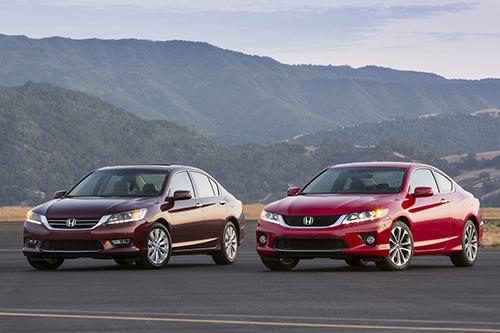 Most significant changes: A few small conveniences are now available on lower trims
Price change: $150 across the board
On sale: Now
Which should you buy, 2014 or 2015? 2014
For 2015, the ninth-generation Honda Accord enters its third model year with a handful of minor changes and a $150 price hike across all trims. All the updates involve equipment: A HomeLink universal remote is now standard on four-cylinder EX-L trims, while the four-cylinder EX coupe gets the automaker's LaneWatch camera system, which was previously restricted to higher trims. Finally, an auto-dimming rearview mirror comes on the EX-L coupe.
Related: Honda Accord Continues To Be a Real Steal fo Thieves
Those are minimal changes for a car that won Cars.com's six-car family sedan comparison in late 2012. Honda continues to offer the Accord as a coupe or sedan, with more than a dozen trim levels between the two, including a hybrid sedan. All of them are on sale now for the 2015 model year. In California and New York, Honda also markets an Accord Plug-in Hybrid, which stays in the 2014 model year for the time being. Details on the 2015 Accord Plug-in Hybrid are still forthcoming, spokesman Chris Naughton told us.
Editor's note: This post was updated on Aug. 20 to reflect more details on the Honda Accord Plug-in Hybrid.
Manufacturer image