2015 Volkswagen Eos Final Edition Means the End of the Road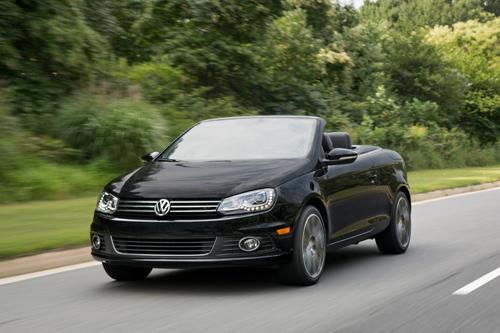 Remember when Volkswagen introduced the 2010 New Beetle Final Edition? It signaled the passing of a car that spent an eternal 13 model years going from spring chicken to throwback turkey. Well, the Final Edition is back, and it heralds the swan-song year for the Eos hardtop convertible, which arrived at U.S. dealerships eight years ago this month.
Related: 2014 Volkswagen Eos Cars.com Review
But while the Beetle got new life a few years later that is not in the cards for the Eos.
Put a fork in it; the Eos is done. And cue the long sigh and slow nod, because we told you so. (We know, we were a year late. Let us have our moment.)
The 2015 Eos Final Edition replaces the 2014 Eos Sport and slots between the Komfort and Executive trims. Features include 18-inch alloy wheels, a backup camera, rain-sensing wipers and heated 12-way power seats with two-tone leather. The Final Edition runs $39,985, including destination — about halfway between the Komfort ($36,615) and Executive ($43,155) and just $795 more than the 2014 Eos Sport, despite having significantly more features.
Volkswagen spokesman Mark Gillies told us there are no plans to redesign the Eos. It's easy to see why: The car was an appealing but pricey droptop, and sales peaked in 2008 at just 12,837 cars. Even then, shoppers bought more than twice as many New Beetles. By 2013, the (redesigned) Beetle convertible handily outsold the Eos, whose sales had slowed to a trickle. Irony never stopped a business case, and for a car named after the Greek goddess of dawn, 2015 will be the Eos' sunset year.
Manufacturer image