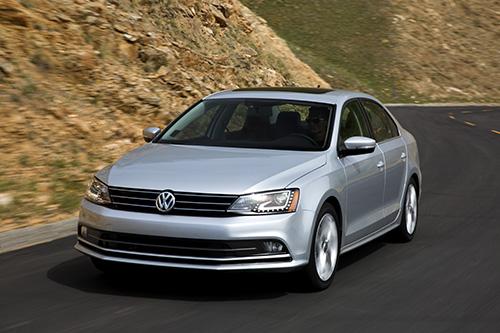 Volkswagen's refreshed 2015 Jetta starts at $17,035 (all prices include destination). That's up $520 over the 2014 model; the 2015 should be in dealerships by the end of September. The starting price gets you a 2.0-liter four-cylinder base model with a five-speed manual transmission and power windows and locks but no air conditioning or radio. Some dealers will stock them, VW spokesman Mark Gillies told us, but "it's a relatively small percentage of the mix." That's been the case for the base Jetta in recent years.
Related: 2015 Volkswagen Jetta: First Look
For most Jetta shoppers, the effective base model at dealerships is a stick-shift Jetta 2.0L S ($18,145), which adds air conditioning and a CD stereo plus Bluetooth, steering-wheel audio controls, cruise control and keyless entry. A six-speed automatic runs $19,245.
Note, however, that Volkswagen's base 2.0-liter four-cylinder is neither powerful (115 horsepower) nor efficient (an EPA rated 28 combined with the manual or 26 mpg with the automatic) in a class of Honda Civic, Toyota Corolla and Ford Focus compacts.
The brand's turbo 1.8-liter four-cylinder, introduced on the Jetta a year ago, makes a healthier 170 hp. It comes in 1.8T SE, 1.8T Sport and 1.8T SEL trims; the SE starts at $19,815. All of them have alloy wheels, heated seats, bush-button start and an iPod-compatible stereo. Climb the trims and you can get faux-leather upholstery, keyless access, a backup camera, navigation, a moonroof, Fender premium audio, dual-zone climate, a sport suspension and sport seats. The top trim, a 1.8T SEL, runs $26,200.
You'll save some of that in fuel costs, as the 1.8-liter Jetta's combined EPA mileage is 29 mpg with the manual or 30 mpg with the automatic — both closer to the competition than the Jetta's base engine. The 2014 Civic, 2015 Corolla and 2014 Focus sedans range from 30 to 35 mpg in EPA combined ratings with automatics and base engines.
Go-fast drivers can still get Volkswagen's 210-hp, turbocharged 2.0-liter four-cylinder, while the diesel crowd can get a 150-hp, turbo-diesel 2.0-liter four-cylinder that's good for an EPA 36 mpg combined.
Finally, the Jetta Hybrid returns in a single, well-equipped Hybrid SEL Premium trim. At $32,490, it tops out a Jetta sedan lineup of five engines and more than 10 trim levels.
There is no 2015 Jetta SportWagen as VW's new Golf SportWagen takes its place early next year.
Manufacturer image