Cadillac to Debut ATS-V at November's L.A. Auto Show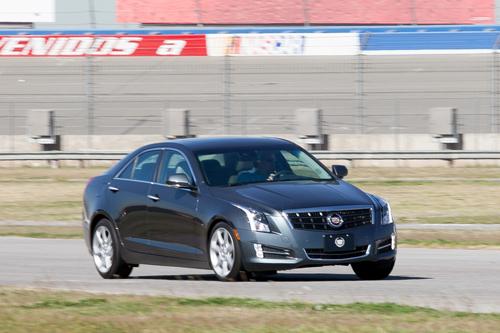 The L.A. Times reports that Cadillac will debut a high-performance version of its compact ATS sedan at November's 2014 Los Angeles Auto Show, with a go-fast ATS coupe to follow.
Dubbed the ATS-V, the car will reportedly get the twin-turbo 3.6-liter V-6 from the CTS V-Sport, which makes 420 horsepower and 430 pounds-feet of torque. Given that the ATS sedan is still at least 200 pounds lighter than its CTS sibling with the same engine, the ATS-V should be one quick car. It would target BMW's redesigned M3/M4, which boasts 425 hp and 406 pounds-feet of torque.
Related: 2015 Cadillac ATS Gets Powermat Wireless Charging for Smartphones
Expect a CTS-V to debut at January's 2015 North American International Auto Show in Detroit; both the ATS-V and CTS-V will go on sale in 2015. Media days for November's L.A. show, which traditionally kicks off the U.S. auto-show circuit, are Nov. 18-20, so stay tuned for our up-close impressions of the ATS-V. In the meantime, click here to read more about Cadillac's forthcoming performers from our friends at the L.A. Times.
The photo above is of a 2013 ATS with a 2.0-liter turbocharged four-cylinder.
Cars.com photo by Evan Sears