2015 Chevrolet Corvette Stingray Gets New Eight-Speed Transmission; We Drive It
Chevrolet has been enjoying amazing success with the redesigned Corvette Stingray, delivering 37,000 of the 2014 model to buyers, nearly tripling sales of the iconic two-seat sports car overnight. Now 2014 model production has ended, and the company is ready to begin shipping 2015 models out the door of the Bowling Green, Ky., manufacturing plant. The new model is largely the same as the 2014, with one notable exception: The 2015 Stingray receives a new General Motors-designed eight-speed automatic transmission, joining the seven-speed manual and replacing the old six-speed automatic.
Related: 2014 Chevrolet Corvette Stingray Review
Why upgrade to a new transmission so soon after launching the popular Stingray? The reason is simple: The upcoming Corvette Z06 and its 650-horsepower, supercharged LT4 engine make more power than the current six-speed can handle without fragging itself. No suitable transmission could be found from a supplier to both handle the Z06's power and fit in the Corvette's unusual packaging, so GM made its own, and buyers of any Corvette variety will now get the eight-speed when they opt for an automatic.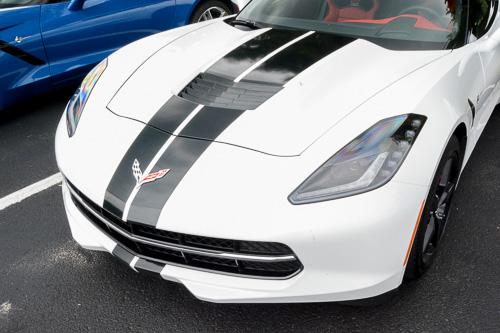 The new 8L90 automatic transmission is an impressively compact and lightweight, yet highly durable, unit that Chevrolet says works to boost the base Corvette's fuel economy by 3.5 percent to 29 mpg highway, while dropping the car's zero-to-60 mph time to just 3.7 seconds and the quarter-mile to 11.9 seconds. That makes the automatic-equipped 2015 Corvette faster than the manual-transmission-equipped car.
I recently had the opportunity to sample the new 2015 Corvette Stingray at GM's Milford Proving Grounds in Milford, Mich., and can attest that my 50-mile jaunt in a new convertible was impressively smooth.
Acceleration is as strong as ever, but shifts are barely perceptible — power is simply delivered in a long, seamless rush of thrust and V-8 growl. Downshifts are extremely quick; Chevrolet says gear changes happen faster than those in Porsche's excellent dual-clutch PDK transmission. The transmission also never hunts for the right gear; it always seems to be ready to deliver sufficient power for whatever situation is called for. Perhaps most impressive is the ability to turn the Corvette, a high-performance V-8 sports car, into something relatively frugal. My test car registered 26.3 mpg on its trip computer in mostly highway use for my test, and the Corvette's chief engineer says that over longer trips, attaining better than 30 mpg on the highway is easily achievable.
GM has a lot of faith in this new transmission, as it is slated to find its way into not only the Corvette Stingray and Z06, but GM's full-size trucks as well. It will initially be fitted to pickups featuring GM's 6.2-liter V-8, but we would not be surprised to see it proliferate across other models as the company chases improved truck fuel economy. Look for the new Corvette with the eight-speed to arrive in showrooms sometime in the fall.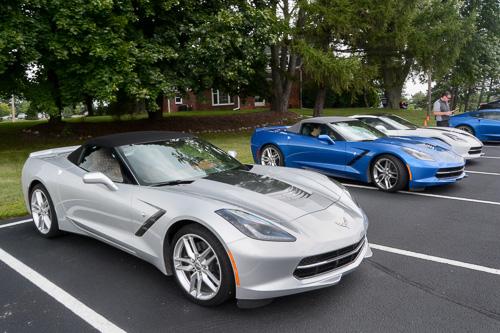 Cars.com photos by Aaron Bragman