Gas Prices Continue to Ease for Labor Day Travelers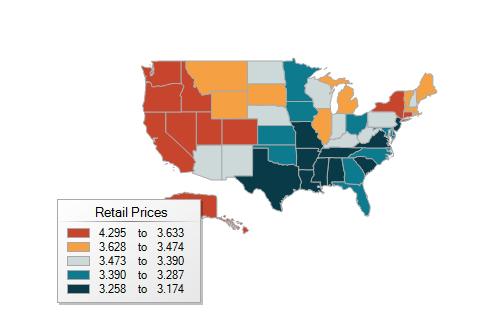 Motorists who take to the roads for the Labor Day weekend should pay less for gas in most parts of the country than they did a year ago as the national average for a gallon of regular unleaded gas slipped to the lowest level on this date in four years. The AAA Daily Fuel Gauge Report said Thursday that the national average for regular unleaded was $3.43 a gallon. That is 12 cents less than a year ago and the lowest for Aug. 28 since 2010, when the effects of the recession suppressed demand and the national average was $2.68. The national average for diesel fuel was $3.80 on Thursday, 9 cents less than on Aug. 28, 2013.
August Gas Prices Hit Four-Year Low
AAA predicts that nearly 35 million Americans will travel 50 miles or more over the holiday weekend, the most since 2008, with 30 million traveling by car. Motorists are paying less for gas today than at this time last year in all, but about half a dozen states, mainly in the Western U.S., where refinery issues have reduced the supply, AAA said in its weekly assessment of gas prices. Californians, for example, are paying 6 cents more per gallon, on average. Statewide averages are higher than a year ago by 12 cents in Washington state, 13 in Colorado, 16 in Nevada and 17 in Oregon.
In most states, though, motorists are paying at least 10 cents less than a year ago, with bigger declines along the East Coast. Average prices for regular unleaded are lower by 17 cents in Virginia, 18 cents in the District of Columbia, 19 cents in Delaware and 21 cents in New Jersey. South Carolina had the lowest statewide average at $3.17, followed by Mississippi and Virginia, $3.19; Alabama, $3.20; and Tennessee, $3.22.
The most expensive gas was in Hawaii, where regular unleaded averaged $4.29, followed by Alaska, $4.04; Oregon and Washington, $3.88; and California, $3.86. Gas prices normally fall after the Labor Day weekend with the end of the summer driving season, but that pattern could be threatened if ongoing conflicts in the Middle East disrupt the flow of oil from the region or if refinery capacity in the U.S. is reduced by natural disasters or other issues. One such issue occurred Wednesday night at a BP refinery in Whiting, Ind., the company's largest in the U.S., when an explosion and fire rocked the area. BP said Thursday that the explosion would have "minimal impact" on the refinery, and gasoline production was continuing.
The Midwest historically has had the most volatile gas prices, usually because of refinery problems or other supply issues, and motorists often experience substantial price swings over a matter of days. For example, prices jumped by 4 cents the past week in Ohio, 8 cents in Indiana and 11 cents in Michigan. During the previous week, prices had fallen by 14 cents in Ohio, 12 cents in Indiana and 11 cents in Michigan.
AAA graphic