GM's OnStar 4G LTE Rolling Into Dealerships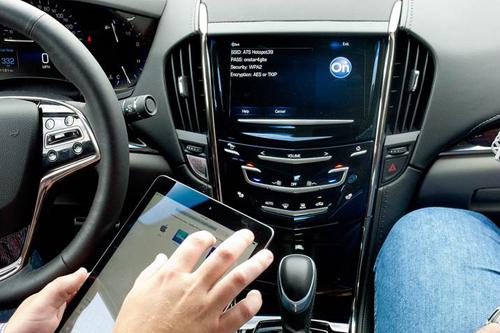 As we reported previously, GM aims to be a leader in onboard 4G LTE connectivity and has begun selling 2015 models equipped with the technology. To date only Audi has provided onboard 4G, appearing first in its newly redesigned 2015 A3 sedan. A 4G LTE connection in the car has broader and probably more meaningful implications than onboard Wi-Fi, such as fast delivery of navigation and traffic data and, eventually, the capacity to update onboard multimedia or even car functions wirelessly. But for now, the focus is on the OnStar hotspot, to which up to seven devices can connect.
Related: 2014 Chevrolet Impala: Five Surprising Features
GM is making the hardware standard on most of its models, even the tiny Chevrolet Spark, though the goods will come later in the 2015 model year to the full-size truck-based models: the Chevy Tahoe, Suburban and Silverado; GMC Yukon and Sierra; and Cadillac Escalade. Other vehicles that can actually fit seven humans, the full-size crossovers -- the Buick Enclave, Chevrolet Traverse and GMC Acadia - will wait until the 2016 model year. GM says some of its base work-truck pickups will be sold without the hardware.
New-car buyers will enjoy a free trial of three months or 3 gigabytes. Then, just like mobile device data plans, the cost will depend on expected usage. Existing OnStar subscribers get a price break for the smaller data plans. (Though the hardware is standard, most OnStar services remain subscription-based.)
Data/Month (subscriber)
200 MB: $5
1 GB: $15
3 GB: $30
5 GB: $50
Data/Month (non-subscriber)
200 MB: $10
1 GB: $20
3 GB: $30
5 GB: $50
Owners who don't opt for the monthly plan can spread it out over a year or go for a day pass (24 hours) should the demand arise, say, for a family road trip, allowing multiple passengers to tap into the network rather than use their own data plans or do without. (GM cites a study saying roughly 90 percent of tablets are Wi-Fi-only or don't have active data plans.)
Data/Duration (subscriber)
250 MB/1 Day: $5
10 GB/12 Months: $150
Data/Duration (non-subscriber)
250 MB/1 Day: $5
10 GB/12 Months: $200
AT&T provides the service, so consumers who already use the carrier can pay an extra $10 per month to tap into their Mobile Share Plan from the car.
While 4G LTE is new, Wi-Fi in cars is not. We've experimented with 3G-powered hotspots in earlier models from Audi and other brands, and the problem has been clear: It's just too slow. Especially when you have a smartphone or tablet with its own 4G connection, connecting to the car's 3G Wi-Fi proves frustrating and pointless. A 4G LTE connection should change that, so we look forward to testing the OnStar system in the coming weeks.